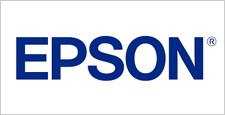 We offer more Epson
printer ink cartridges
than any other brand, servicing a huge range of Epson inkjet and all-in-one models and providing a wide range of pricing options for every budget.
Epson's original inks are the product of years of research and development, and provide a level of output quality that is very difficult to match. Their range includes innovative inks such as 'DURABrite' which dry quickly and are smudge resistant, giving laser-like results from an inkjet printer. Epson promise that all of their inks are fade resistant and will stay true for up to 300 years, if preserved in a photo album. Their ink cartridges have SmartValve Control to regulate the pressure at which ink is released, and a structure that includes air chambers and filters to eliminate the possibility of leakage. Epson's ink cartridges also include smart chips that communicate with your printer to allow monitoring of ink levels.
Our Epson premium compatible ink cartridges are also designed and manufactured to the most stringent quality control standards allowing us to supply each cartridge with a 3 year guarantee and refund-or-replace promise. Our compatibles give you optimum performance at a more affordable price, with comparable print quality and yield to the branded alternative. Each and every cartridge in our Epson compatible range has undergone rigorous testing to ensure its quality and reliability. Our warranty promise offers you complete peace of mind when using our Epson premium compatible products – should they cause a fault with your Epson printer, we will repair it or replace it with a brand new model.
Look out for our 'Premium Recycled' Epson compatible products – these use recycled components, allowing you to save on your printing costs and make an environmentally responsible choice at the same time.