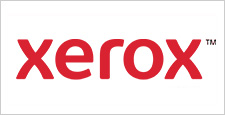 TonerGiant supplies a wide range of Xerox own brand (OEM) toner cartridges and our own brand compatibles for Xerox laser printers.
Xerox
original toner cartridges
are designed for consistent quality, reliability and high performance. Independent tests show that they produce up to 27% higher page yields than many of the other cheap low quality compatibles you can buy. Xerox warn that the compatibles on sale at the lower end of the market can work out more expensive in the long run, since they are frequently defective and can leak in your printer. They also frequently produce pages that are unusable which wastes your time, money and resources in having to print your documents more than once. Xerox toner cartridges by contrast have been shown by the Buyers Lab Institute (BLI) to deliver superior image quality time and time again without any detriment to performance.
Our Xerox compatible toner cartridges really do offer exceptional value for money. Our Cartridges are manufactured to the highest possible standards, and we have extensively tested them to ensure they deliver like-for-like in terms of quality, durability and print yield. Compare our prices with the Xerox branded toner cartridges and you will see that a saving of over 50% is achievable, significantly driving down the cost of operating your printer.
Both our Xerox branded and compatible toner cartridges can be delivered free to your door through our next working day service – just order prior to 5.30pm Mon-Fri.