Updated 15/10/2019
How to Check Your Printer Ink Levels
If your printouts are faded or blotchy, it may be time to replace your ink cartridges. When ink levels are running low, it can dry out and clog the ink nozzle. This means your printer will try and produce more ink than it usually would, which could cause your printer to break down.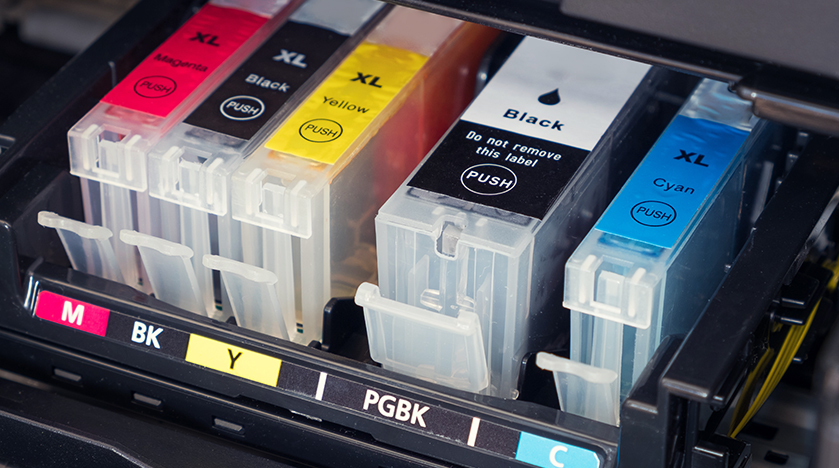 How to Check Printer Ink Levels on Windows
To check printer ink levels on Windows regardless of the brand, follow these steps below:
Click the start menu and search for 'Devices and Printers'.
Select devices and printers in the search bar. This will allow you to see the printers connected to the computer.
Click the printer you want to check, and you'll see the ink levels at the bottom of the devices and printers section. It will appear under the status area, which you can click for more information.
Popular printer brands and how to check ink levels
How to check printer ink levels on an Epson printer
These printers are equipped with a Status Monitor Utility that checks the Epson ink grade in your printer. You can access this from the printer drive, which can be reached by the start menu or home screen dashboard, depending on your device model. You'll be able to see lots of potential error information from here like paper jams. However, if an ink cartridge installed in the printer is broke, the utility will not be able to calculate the correct ink breakdown.
How to check how much ink is left in a HP printer
If you have a Windows PC you'll need to download and run a free tool called HP Print and Scan Doctor.

This will automatically perform troubleshooting diagnostics to identify any problems you may have.

To check the ink levels of your HP printer, open the tool and click Printer/Supply Levels. This will bring up the estimated ink and toner levels.

For Windows 10, Android and iOS you'll need to download HP Smart app. The

HP ink

levels will be displayed on the app's home screen.
How to check printer ink level on a Dell printer
Access the ink levels of your Dell printer from the control panel on your PC.

Select 'view devices and printers', under hardware and sound and click your printer.

From the printer options, you'll be able to find the services tab and select

Dell ink

levels.

From here, you'll be able to print a test page to determine the true printing levels.
How to find out how much printer ink is in your Lexmark printer
With a Lexmark printer you'll be able to access the ink levels from either your computer or the printer's display screen. From your computer, you'll need to download and open the Lexmark P910 Series Utility. Once open, click the cartridges tab to see the Lexmark ink status.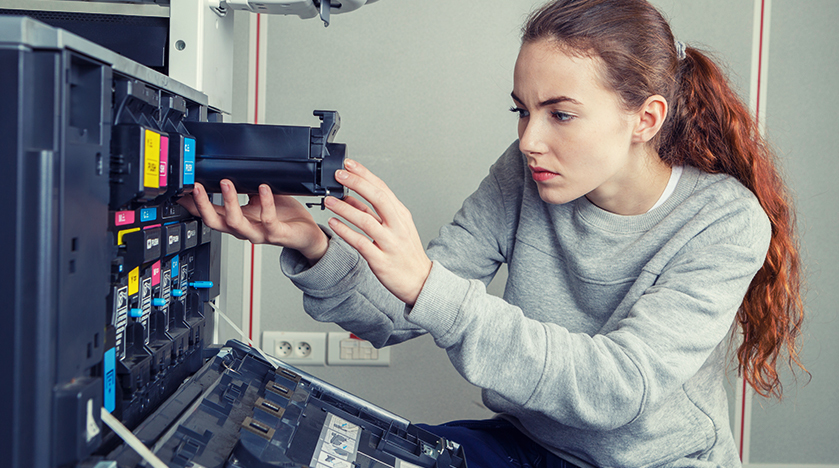 How do you check ink levels on a Canon printer?
Launch the Canon IJ Status Monitor.

Click on the maintenance tab which will take you to the view printer status screen.

You'll be able to view the ink levels on the pop-up screen.

 If you need further information, click 'ink detail' and you'll get a more detailed look into how much ink is left in your Canon printer.
How to check how much ink is left in a Brother printer
If you have a Brother printer, you can find the status monitor either from the printer's LCD screen or from your PC's control panel. On the printer, just click the ink or ink management key to find an option for ink volume. Access the ink status from a PC with the Status Monitor Utility. The quickest way to do this is to double-click the printer icon in the task tray on your desktop. This will bring up the ink's colour levels. If you're working from a mac, visit Macintosh and enter the follow pathway: HD/Library/Printers/Brother/Utilities.  
How to check printer ink levels in a Kodak printer
Checking the ink levels on your Kodak all-in-one printer is very simple, as it can be done from your printer's LCD dashboard. Press the home icon and click the right arrow which will take you to maintenance. From here you can check the levels so you'll know when it's time to replace the cartridges.
Feeling confident when it comes to ensuring your printer is always ready to go? Check out our range of high quality ink cartridges if things are looking a little low.