Epson Stylus DX8450 Ink Cartridges
This stylish, compact printer is an all-in-one solution for printing, scanning and copying with colour display and editing options. The Epson Stylus DX8450 produces high quality documents and photos and to maintain that quality you need to buy the right inks. We stock compatible and original ink cartridges that are guaranteed to work with your Epson Stylus DX8450 printer. Original ink cartridges are made by the manufacturer of your printer and come with the manufacturer's warranty of six months. Our compatible ink cartridges are great value for money and have a three-year guarantee because we're so confident that you'll be pleased with them.
Be the first to ask a question about these products. Click 'Ask a Question' above to submit your query and we will answer it as soon as possible.
0
Ink Cartridges for the Epson Stylus DX8450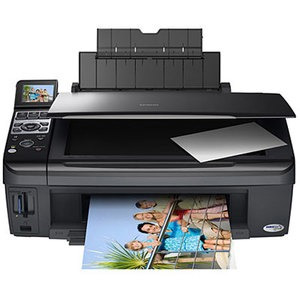 TonerGiant supports Epson's core values about helping the environment so we manufacture Premium Recycled ink cartridges for the Epson Stylus DX8450. You can either buy a multipack that includes black, cyan, magenta and yellow or you can buy the inks individually. We also stock Epson's original ink cartridges for the Stylus DX8450. These are also available to buy as a multipack or individually and we won't be beaten on price. With our 120% price promise we can guarantee that you won't find Epson ink cartridges cheaper anywhere else. However, if you do, we will refund you 100% of the difference and give you 20% back towards your next purchase.
Advantages & Features of the Epson Stylus DX8450 printer
This impressive printer is perfect for printing high-quality documents and photos. You can print directly from your digital camera, via PictBridge or from your memory card, as well as directly from a Laptop or PC through the USB. Because Epson want your photos to look great you can download Epson PhotoEnhance for automatic colour and contrast optimisation as well as colour correction, dust removal and correction of background lighting with Epson Easy Photo Fix.
How long will the Epson inks last?
Of course it depends what you're printing when it comes to how long the ink cartridges will last you but for a rough guide both the compatible and original ink cartridges have the same life span. The black inks tend to last for around 240 pages, the cyan ink cartridges for 475, magenta 280 and yellow 460. It's worth noting that your printer will not print black documents if you have run out of any of the others, so try and keep a good stock of them.