Epson XP-332 Ink Cartridges
The Epson XP-332 is a good sized home printer that is definitely up to the task of delivering high quality photo prints of all your favourite images. Itís great looking design works perfectly in any stylish home office space and it also has the ability to print, scan and copy. When it comes to replacing the ink on such a high quality device itís important you source replacement cartridges of the same caliber Ė which is exactly what we stock here on the TonerGiant website. Browse the range below and if youíre ordering before 5.30pm Monday to Fridays and youíll receive your order tomorrow with our free next business day delivery service!
Q.
Expression Black 29 XL cartridges. Where can I buy these and at what price?
A.
Hi there, thank you for your question, it looks like you were on the correct page to view the Epson Black 29XL cartridge which can be found here https://www.tonergiant.co.uk/product/Epson-29XL-Black-Ink-Cartridge-C13T29914010-87419/ if the page wasn't displaying correctly or you had trouble viewing the cartridge you were looking for please could you let us know by emailing help@tonergiant.co.uk so we can check into things? Thank you for your help, Stu.
Q.
WHAT DISCOUNT DO I GET ON ORIGINAL INKS FOR XP-332, Epson?
A.
Hi, unfortunately we can't offer discounts on the questions and answers section. We'd be happy to take a look if anything is available if you could call on 0845 365 3605.
2
Ink Cartridges for the Epson XP-332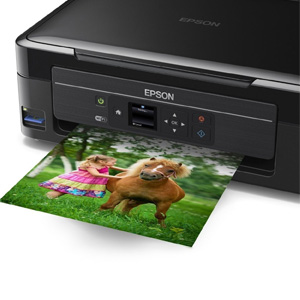 We stock a wide range of Epson original ink cartridges here at TonerGiant.co.uk, but donít expect to pay the high prices that come with branded inks. Our 120% price promise ensures that we are the cheapest on the market, as you make your choice from our range of great value multipacks and affordable single ink cartridges. Opt for the XL cartridges to enjoy bigger print runs and ensure your refills last for up to 450 pages!
Advantages & Features of the Epson XP-332 Inkjet Printer
This printer offers a plethora of innovative features, including wireless technology, allowing you to print PC-free and make selections via a touchscreen LCD display. There is also a memory card slot for quick photo printing. This device also allows you to scan with its flatbed CIS scanner and has a 100 sheet paper tray, allowing you to print large documents without delay. Itís photo printing quality is exceptional, offering a maximum resolution of 5760x1440dpi with true to life colours on printouts. Our range of cheap ink cartridges are definitely up the job, when it comes to supporting such a great quality machine.
How long will the Epson XP-332 ink last?
Photo printing will deplete ink levels quickly, however on the great value Epson multipack in XL you can enjoy 470 pages of printing. If you opt for the cheaper Epson 29 cartridges you should be able to print up to 180 pages. Sometimes it works out best to pay a little extra and reap the rewards when it comes to value. However, if you have any queries when making your selection donít hesitate to get in touch, either via phone or email.