Epson Stylus SX200 Ink Cartridges
The Epson Stylus SX200 printer offers superb quality printing in the comfort of your home office. Our Epson Stylus SX200 Toner Cartridges are guaranteed to work in harmony with your Epson device and we stock a range of both Epson branded and our own compatible cartridges. This ensures every budget is covered and quality is never compromised along the way - in fact, our compatible range is so good we even include a three year guarantee on every cartridge you purchase. Check out the range below and enjoy your new purchase the next day with our next business day delivery service if you order before 5.30pm Monday to Fridays.
Be the first to ask a question about these products. Click 'Ask a Question' above to submit your query and we will answer it as soon as possible.
0
Ink Cartridges for the Epson Stylus SX200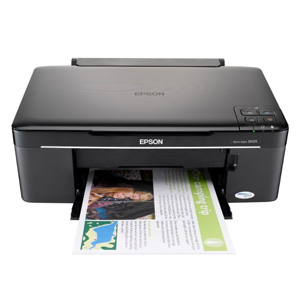 TonerGiant stocks compatible ink cartridges for your Epson Stylus SX200. These come with a three-year guarantee so if you aren't 100% satisfied with them we will give you your money back. The compatible cartridges have been tried and tested with the Epson machine to ensure they function at the highest capability. We're so confident that you'll love our premium recycled Epson inks that we offer a full 3 year guarantee. You'll also discover, that as well as our compatible cartridges, we stock Epson's own brand of ink cartridges including their High Capacity inks.
Advantages & Features of the Epson Stylus SX200
As a printer, scanner and copier combined this is a versatile, all-in-one printer that can be used either via a USB or wirelessly. The documents and photos printed via this device are high quality every time and you can save money by only replacing the inks that run out. You can also download Epson PhotoEnhance, which will enable your printer to automatically adjust colour and contrast to produce excellent photos. This printer also achieves fast printing speeds of up to 34ppm.
How long will the ink cartridges last?
TonerGiant stocks both compatible and original ink cartridges for the Epson Stylus SX200. Both ink cartridges are guaranteed to work smoothly with your printer and come in black, magenta, cyan and yellow. You can either bulk buy the whole selection or buy individual colours. The ink cartridges' yield is around 240 pages per colour so you should enjoy a high rate of quality printing over a prolonged period of time. If your cartridges run out again, don't hesitate to use our free next day delivery service - if ordering before 5.30pm - so your printing needs are never held back or hindered.