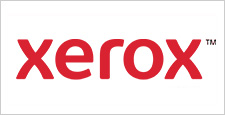 Our online range includes both Xerox branded
ink
cartridges and our own-brand compatible ink cartridges for Xerox inkjet printers. Every item is supplied with fast free next business day delivery when you order Mon-Fri by 5.30pm.
Our most popular ink cartridges for Xerox inkjets are our own-brand Xerox compatible products. We design and produce the cartridges ourselves at our state of the art facility in Lincolnshire to a very high specification. This allows us to keep full control over the quality of the resulting products and we are confident that they compete with original Xerox (OEM) ink cartridges on every level. Our own-brand Xerox compatible ink cartridges are tested at length to ensure they work perfectly in the printer they were designed for and match the print quality and yield that Xerox original ink cartridges provide. Youíll notice that our Xerox compatible ink cartridges offer you a significant cost saving over the Xerox original products, helping to drive down your home and business printing costs.
We also offer Xerox branded (OEM) ink cartridges that are manufactured by Xerox for your specific printer model. Xerox consider themselves to be business engineers and process pros, and their obsession for improving your work life is evident in the quality of their printer consumables. Xerox ink cartridges are always reliable, offering crisp text and stunning images which are durable and long lasting. Backed by a 6 month guarantee, you can be confident that these cartridges will work with, and prolong the life of, your Xerox inkjet printer or product.