Epson Stylus Pro 3880 Ink Cartridges
One of Epsonís smaller printers, the Epson Stylus Pro 3880 boasts economical value but exceptional quality. The reason that this printer can produce such beautiful prints is due to the Epson UltraChrome K3 ink with Vivid Magenta that it uses. This Epson device will give you excellent results on a variety of photos, fine art and proofing media. To get the best performance at great value, shop Epsonís range of original cartridges for the Epson Stylus Pro 3880 from TonerGiant - we wonít be beaten on price.
Be the first to ask a question about these products. Click 'Ask a Question' above to submit your query and we will answer it as soon as possible.
0
Ink Cartridges for the Epson Stylus Pro 3880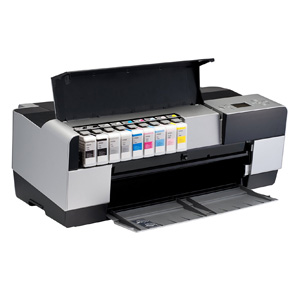 For the ultimate images and great printer performance you should buy Epsonís original ink cartridges from Toner Giant. The Epson UltraChrome K3 Ink with Vivid Magenta uses nine pigment inks to give your prints wide colour range and exceptional light fastness. There are three levels of the colour black which delivers a perfectly balanced grey scale with smooth tonal graduations. The Epson Stylus Pro 3880 can also auto-switch between optimised photo and matte black to give you flawless results.
Advantages & Features of the Epson Stylus Pro 3880
This printer has set new standards in colour precision since its development. For use in pre-press, packaging, design, commercial photography and fine art printing this Epson Stylus Pro 3880 can achieve an enormous 98% Pantone coverage. You are guaranteed a professional finish every time using Epsonís inks alongside the Stylus Pro 4900ís automatic colour certification and calibration. This printer can print on a range of media up to 1.5mm thick, including thick photo or presentation matte board.
How long will the ink cartridges last?
Due to the Epson Stylus Pro 3880 requiring nine different inks you will have to do quite a bit of shopping to get you up and running. However, TonerGiant offers a 120% price promise and believes that all of our inks are the best value on the market. The Epson black and colour ink cartridges have an 80ml capacity and we stock all of the colours you need, including three shades of black.