HP LaserJet P2055dn Toner Cartridges
If your HP P2055dn printer is running low on toner, and you need an urgent replacement then you've come to the right place as we can get an order to you quickly with our super fast free next business day delivery, so buy your toner from us today for the best value in the UK and you'll be printing again in no time! We have the full range of toners available including standard capacity CE505A, high capacity HP 'X' cartridges and dual pack toners. We also sell our top value and great quality compatible alternative CE505 toners in both standard and high yield versions.
Q.
Is the P2055dn maintenance unit an original HP? I dont want a copy. Thanks.
A.
Hi there, do you mean the fuser unit? If so that is a genuine HP part, we only sell the originally manufactured maintenance items for HP printers unless it's a drum unit then we do sometimes sell compatible versions, however none of them will be copies. If you need any assistance placing an order, get in touch!
Q.
DO you offer any cash back on your compatibles?
A.
Hi there, the cash back offer is entirely run by HP so unfortunately we don't have control over which products it applies to. The Cashback is actually claimed back directly from HP after you receive your order and you claim from their website using your invoice and box holograms.
Q.
What does the fuser unit do, will I need to buy one? I need a new toner.
A.
Hello! The fuser unit is the maintenance part of the printer that melts the toner particles on to the paper so that it's sealed and won't smudge. Your printer will tell you when it's time to replace your current one so you don't need to worry about buying one if it hasn't come up with that message.
Q.
do you have your own make of toner in stock
A.
Hi, yes we do and its on this page here: https://www.tonergiant.co.uk/product/Compatible-HP-CE505A-Toner-Cartridge-RECE505A-4724/
4
Toner Cartridges for the HP LaserJet P2055dn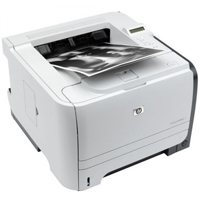 Are you looking for the full range of HP LaserJet P2055dn toners? Here at TonerGiant we have every available product in the HP 05A range from the CE505A to the CE505L and printer fuser unit. Or you can save money on the cost of printing with our high quality compatible toner alternatives that are up to 60% cheaper than the Original HP toners.
For those with a large print requirement or a big print job on the horizon you can even purchase a HP 05A toner twin pack that offers an output of up to 13,000 pages, giving you the most economical option and a discount compared to buying individual cartridges.
Whichever toner you choose, remember that your purchase is backed by a rock-solid guarantee and will be delivered to you the very next working day thanks to our free next business day shipping service.
HP LaserJet P2055dn printer
The HP LaserJet P2055dn printer was designed for small to medium offices and to be shared by a team of 2-3 people allowing you to easy print out black and white documents at high print speeds. Automatic duplex printing also means that you are using both sides of the paper and reducing the amount of wastage.
In our opinion itís a fantastic printer for general office printing but not ideal if you have a large print job to take care of. The printer becomes very uneconomical if you intend to print more than 3000 pages per month. However, the speed is great at 35 pages per minute and you can get additional paper trays to increase the size from 150 sheets to 750 sheets for large single print tasks.
How long can I expect toners to last?
You can buy toner cartridges that can print up to 6500 pages each so you should comfortably be able to print 100-150 pages a day and the cartridge would still last up to 2 months.
There are various toner options available from the CE505XD high capacity twin pack, CE505D standard capacity toner twin pack and high capacity, standard capacity and even low capacity single HP 05A toners. If you have very little to print, our advice is to stick to the HP economy 05L toners. Take a look at the handy chart that shows you how many days you can expect your cartridge to last depending on how many pages you print each day.
*The chart information is calculated using the standard devised by the ISO (international standardization organization). Toner cartridge capacities are based on 5% or toner covering an A4 page to give you an idea of what you can print. Please note that if you were to print pictures or a full page of text, your cartridge will not print the stated quantities.
How long will your cartridge last?
The following table shows you how long your cartridge will last based on how many pages you print each day*
Pages Printed
CE505X Black
CE505A Black
CE505L Black
50 Pages
130 days
46 days
20 days
100 Pages
65 days
23 days
10 days
500 Pages
13 days
4.6 days
2 days
1000 Pages
6.5 days
2.3 days
1 days
2000 Pages
3.2 days
1.2 days
0.5 days