Looking to buy HP toner cartridges? If you're working in a busy office and your HP printer is running low, you need to buy from somewhere you can get the fastest shipping and best prices around. Look no further than TonerGiant, where we sell the full range of HP toners together with our alternative own brand compatibles to offer you the best option if you're looking for cheap HP cartridges – what's more, all come with free next business day delivery, just place your order before 5:30pm Monday - Friday and you'll receive it on the next working day.
Which HP toner do I need?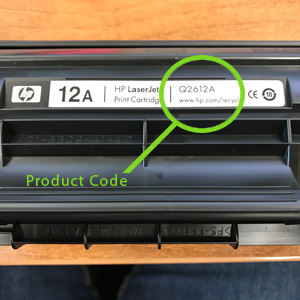 If you're a little unsure about which HP toner you need for your printer, the easiest way to find out is to look at which cartridge is currently in your machine. Go to your printer and open the toner compartment cover and inside you will see the toner that is currently installed. The cartridge will have a specific code like the one in the image here. Once you find your product code, type it into our search box to find your toner and buy it.
Alternatively, if you can find your printer model which is located on the front of your printer, use our handy wizard above or the list below to navigate to the page where all toners available for your printer will be listed and you can be positive that you are purchasing the correct toner for your printer. If you need any help at all, click live chat or give us a call on 0845 365 3605 and we'll be happy to guide you!
Which HP LaserJet toners do you sell?
We have all available HP laserjet toners in-stock and ready for immediate dispatch. Our HP toners come in a variety of options to give you the best output no matter what you need to print. Choose from:
The HP 'A' range of standard toners perfect for regular printing requirements offers twice the number of pages than the economy range of HP toners. The 'X' range HP toner for those who run large print jobs and would prefer not to keep ordering new toners. The 'X' range offer twice the capacity of 'A' toners at a lower cost for each page. The 'D' range are dual packs and contain two 'A' toners at a discounted price.
How long will my HP Toners Last?
There are several factors that can affect how long your HP toners will last, including how old and how efficiently your printer still prints and the types of things you are printing. If you are printing standard text documents with small or no images, then you should find that your cartridges will last the stated print amount. To calculate how many days your HP cartridge will last, divide the print capacity found on our product page by the average number of pages you print per day.