Epson XP-435 Ink Cartridges
The compact, stylish Epson XP 435 printer is perfect for the whole family to use at home. This handy little printer can also copy and scan using individual Epson XP 435 ink to save you time and money. Individual inks mean that you only have to replace those that have run out rather than replace the whole lot. For the best performance from your printer, itís important to use Epson XP 435 ink cartridges with the strawberry packaging as they are compatible and guaranteed to keep your printer working smoothly.
Q.
Which epson printer takes the compatable inks?
A.
Hi there, most Epson printers that are around a year old or more will have compatible inks available for them. Unfortunately this model is pretty new so the compatibles are not yet available. We can help you find a new printer if you give us your requirements. Please contact us on 0845 365 3605 and we'll be happy to help!
1
Ink Cartridges for the Epson XP-435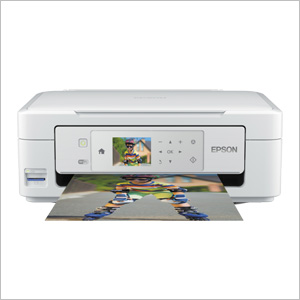 We stock the genuine Epson XP 435 ink cartridges that you need to keep your printer doing its job. The Epson inks are available as either standard or as XL depending on how much printing youíre doing. You wonít find Epson XP 435 ink cheaper anywhere else thanks to our 120% price promise. We can guarantee that our ink cartridges are the cheapest on the market, and we are so certain that we offer a full refund if you find them cheaper anywhere else within seven days of your purchase and an extra 20% towards your next purchase with us.
Advantages & Features of the Epson XP-435
If youíre looking for a printer that gets your documents to you quickly while still printing photography to a high quality then this printer is for you. The Epson XP 435 is also easy to use with its options to print PC-free through its wireless options meaning you can even print directly from your mobile as long as youíre connected to the Wi-Fi.
How long will my ink cartridges last?
With the Epson XP 435 ink cartridges, longevity is dependent upon whether you opt for the XL ink cartridges or just regular. If youíre doing lots of printing and choose to spend a little bit more on the XL ink, it will buy you around 470 pages of printing. If you go for standard, you can print up to 175 pages so itís entirely dependent on how much printing you can see yourself doing.