Epson XP-405 Ink Cartridges
As printers go, the Epson XP-405 is stylish, good looking and does itís job well. This all-in-one printer is user friendly and keen to please. To get the best results from your Epson printer itís important you buy the correct replacement ink cartridges. TonerGiant stock great value compatible ink cartridges for the Epson XP-405 as well as Epsonís original ink cartridges. Both are guaranteed to work with your printer and our compatible ink cartridges come with a three-year guarantee - just in case.
Be the first to ask a question about these products. Click 'Ask a Question' above to submit your query and we will answer it as soon as possible.
0
Ink Cartridges for the Epson XP-405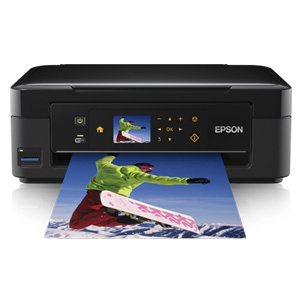 TonerGiantís compatible ink cartridges are manufactured and tested to the highest standards specifically for the Epson XP-405 printer. The conditions are strictly quality controlled to meet the expectation of our customers in terms of duty cycle and print quality. You can buy a Premium Recycled Epson T1816 Ink Multipack that includes black; cyan, magenta and yellow or you can buy each of the colours individually. The Epson original ink cartridges are available in either high or normal capacity.
Advantages & Features of the Epson XP-405 Printer
The Epson XP-405 comes with Epson connect so that you have the freedom to print from smartphones, tablets and PCs wirelessly. You can also email documents directly to the printer from anywhere in the world which is fun if you have loved ones away on their travels. If youíre trying to print from storage you can also print directly from the Google Cloud or Apple Airprint app. The wireless printing is automatic once configured to itís extremely easy to use. The specially formulated ink combined with this printer will result in reliable printing and crisp, lab-quality documents and photos.
How long will the Epson XP-405 ink last?
TonerGiantís compatible ink cartridges are similar weight to the high capacity original Epson cartridges. So, the Premium Recycled Epson 18XL black ink cartridge should print up to 470 pages and the Cyan, Magenta and Yellow will print around 450. If youíre running low why not take advantage of our next day delivery, itís free and extremely fast!