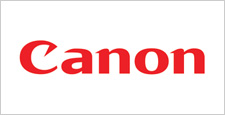 We supply both original Canon printer ink cartridges and affordable high quality compatible ink cartridges with fast, free delivery.
Canon manufacture their inkjet printers with two different types of ink cartridge systems. The FINE system is typically found in Canon printers at the lower end of the market and combines the
ink
and print head in a single handy unit. The more common single ink system is found in mid to high end printers and allows you to replace the individual colours as they run out. These printers often have four tanks (black, yellow, cyan and magenta) but can have up to 12 ink tanks in some of the more expensive models, giving you an exceptional range of colours and meeting the demands of every type of user.
Whichever type of printer you have, Canonís original ink cartridges are premium quality and non-blocking, designed to give you beautiful, long lasting quality prints and the best possible results.
Our Canon compatible printer ink cartridges also offer fantastic performance while giving you a more affordable way to manage your ink usage. We manufacture our compatible ink cartridges in our Lincolnshire factory where we have heavily invested in bespoke machinery and quality facilities to ensure our end products match the standards of original (OEM) ink cartridges in every way possible. We also recycle any components from used ink cartridges where we can, ensuring that our impact on the environment is kept to a minimum. Our Canon compatible printer ink cartridges are extensively tested before being approved for sale, and each cartridge is backed by our reassuring 3 year guarantee.