HP Officejet 3831 Ink Cartridges
The HP Officejet 3831 All in one priter offers speed and ease when printing from a mobile device unless you have run out of HP ink cartridges and that's where we can help! If you're looking to replace your HP 302 or HP 302 XL inks then we've got all available cartridges at the best prices listed below. We also sell a great range of compatible HP 302 inks that offer a great discount compared to buying the HP brand. Shop now and get free next working day shipping via courier delivery and you'll be back printing again in no time at all. We've got everything you need for your HP Officejet 3831 printer!
Q.
Do you have a compatible version of the HP 302s yet? I cant find one on the page here. Thanks
A.
Hi there, no it doesn't look like we do currently have a compatible No. 302 ink cartridge. I'll go and speak to the depot where we manufacture our own brand inks to see if we can get them yet and I will give you a call if that's ok? Thanks for your question!
Q.
In the pack that you sell is the 3 colour ink a large cartridge as well?
A.
Hi, yes that's correct both the black and the tri-colour ink cartridges in the pack are the XL versions of the ink cartridges. If you have any more questions or need any more help then give me a shout and I'll be happy to do what I can!
Q.
Will the OfficeJet 3831 fit the HP No. 100 cartridge as well?
A.
Hi Helen, unfortunately the HP OfficeJet 3831 will only take the HP 302 range of ink cartridges as the HP 300 inks go in another printer model.
Q.
Do you do weekend deliveries, Im not normally around in the week to receive an order?
A.
Hi there, yes we do offer a Saturday delivery but there may be an additional cost as it's an added service rather than the standard courier delivery. If you need to place an order for HP Officejet 3831 ink cartridges then the best thing to do is give us a call on 0845 365 3605 and we'd be happy to place the order on our system for you and you can pay over the telephone. That way we can make sure that we dispatch your order on Friday and it will be guaranteed to arrive between 9am and 12 noon on Saturday.
Q.
How do i put my new black ink in, I am not sure!
A.
Hi there, thank you for getting in touch for support with your printer. On the front of the printer just above where the paper comes out when you print there is a small flap that can be pulled forwards. It's found to the right hand side. Pull that forwards and then you will see the little slots where the existing cartridges are. To release the existing cartridges first push them forwards until you hear a click and then pull them towards you and slide in the new cartridge once all the tabs have been removed from it. You can find diagrams on page 2 of this guide: http://h10032.www1.hp.com/ctg/Manual/c04725257 Let me know if you need any more help!
Q.
Can HP302(Black) be fitted into a HP3831
A.
Hi there, yes that is correct. The HP 302 Black standard and XL ink cartridges are compatible with the HP OfficeJet 3831 printer. You can find them all listed on this page.
6
Ink Cartridges for the HP Officejet 3831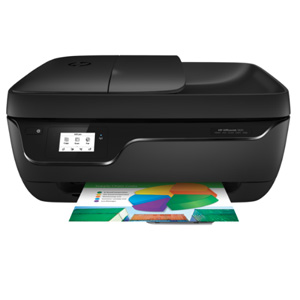 Inks for your HP OfficeJet 3831 can be purchased as part of the instant ink subscription program but if like most, you find that you don't want to be tied down by a monthly paid service for inks that you don't use quickly enough, you can buy them individually right here. We also offer the HP 302 and 302 XL ink cartridges in both original and compatible alternative options for those who'd like to save more money. You won't be disappointed by our compatibles, they are manufactured to the best quality you can find and come with the longest guarantee online of 3 years.
HP OfficeJet 3831 All-in-one Inkjet Printer
One of the most popular home inkjet printers, the HP OfficeJet 3831 has everything you could ask for in such a compact printer. In fact, you wouldn't imagine that something so small and nice looking would boast features like WIFI and AirPrint (direct mobile printing), not to mention Print, Scan, Copy and Fax! This is a fantastic printer and a purchase you'll be glad you made!
The only major downside to this printer is that if you do purchase as part of HP's subscription service, then you will find that you won't be able to use compatible ink cartridges once you decide to opt for cheaper HP ink. However, there is a way around that issue. You can find out more on our page:
How to disable HP's ink cartridge protection feature.
How long should my HP 302 Ink Cartridges last?
Well that really depends on whether you buy the standard HP 302 inks or the 302XL inks. The standard cartridges can print up to 190 pages each where the XL cartridges can print an impressive 480 pages offering a lot more for only a small amount of extra cost. How long an ink cartridge lasts also depends on what you're printing (photos use more ink) but if you are printing the standard amount then our chart on this page should guide you.
Choose the ink that you have purchased from the top of the table, then select how many pages you print per day (on average) from the left column and look across to see how many days your inks will last.
*The infomation we have provided is based on the standard print guidelines cartridge yields which is 5% or ink coverage on an A4 page. Therefore, if you are printing images or large blocks of shading, unfortunately your cartridge will run out a lot faster.
How long will your ink last?
The following table shows you how long your cartridge will last based on how many pages you print each day*
Pages Printed
HP 302 Black
HP 302 Tri-Colour
HP 302 XL Black
10 Pages
19 days
16.5 days
48 days
20 Pages
9.5 days
8.25 days
24 days
30 Pages
6.3 days
5.5 days
16 days
40 Pages
4.75 days
4.1 days
12 days
50 Pages
3.8 days
3.3 days
9.6 days