Epson XP-960 Ink Cartridges
This is another great photo printing machine from Epson, created with keen photographers in mind who want to be able to print their own photos from home. This printer used a six-ink system so that the results are flawless and have an added extra detail. TonerGiant stocks all of the Epson XP 960 ink cartridges that you need - you can recognise the inks from the elephant packaging and we offer free next working day postage on everything at TonerGiant.
Be the first to ask a question about these products. Click 'Ask a Question' above to submit your query and we will answer it as soon as possible.
0
Ink Cartridges for the Epson XP-960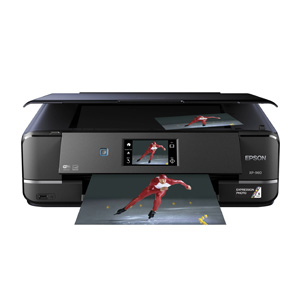 To print with your Epson, you need black, cyan, magenta, yellow, light cyan and light magenta Epson XP 960 ink. Depending on how much printing you are doing you can order XL versions of the cartridges too. Epson inks are technically impressive and affordable for the quality that they deliver. Here at TonerGiant we are proud to have the lowest prices on our genuine ink cartridges. We have a 120% price promise which cover you for seven days after your purchase. If you see the ink cheaper anywhere else, we will refund you the whole difference, plus an extra 20% towards your next purchase with TonerGiant.
Features of the Epson XP-960
Aside from the outstanding quality of photography, the Epson XP 960 handles documents really well and due to the technology behind the ink, prints are fade-resistant, water resistant and long lasting. You can print on anything from A3 photo paper to envelopes and labels. This printer also supports mobile printing with the iPrint app and Epson Email Print. You can also connect via Wi-Fi Direct for easy printing from any wireless device.
How long will the ink cartridges last?
You can opt for either 360 pages from your standard inks or 740 pages from the XL inks. If youíre running low and you have a photo or document that needs printing urgently, make sure you order before 5:30pm for next day delivery.