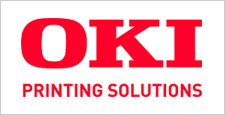 TonerGiantís Oki range includes branded
toner cartridges
for your Oki laser printer and our own brand Oki compatibles for even better value.
Japanese company Oki is well known for its range of innovative printer products which include the worldís first LED print heads and white toner printers. Okiís toner cartridges deliver deep blacks and high definition colour, handling a wide range of media. Their superior products are favoured by a wide range of businesses and in particular those producing graphical documents such as bespoke stationary and promotional merchandise. Okiís combination of ground breaking technology and high quality standards give your business complete flexibility to print whatever is needed in-house, whenever you need it.
Our Oki compatible toner cartridges offer a comparable level of print quality and yield, making them a fantastic option for businesses looking to save money on their printing costs. Manufactured and extensively tested for performance and reliability, our Oki compatible toner cartridges will help your business make substantial savings without compromising on output. To assure you of our product quality, we guarantee each of our own cartridges for a full 3 years and provide a printer repair or replacement promise should any of our own brand products cause an issue with your machine.
Whether you choose our Oki branded toner cartridges or our own brand compatibles, our partnership with The Recycling Factory allows you to recycle your used consumables in a quick, efficient and cost effective way, ensuring that your printer waste does not end up on landfill.