Epson Stylus SX425W Ink Cartridges
This is a great all round printer that can print high quality photography as well as clear and crisp documents. With high printing speeds and fast scanning and copying this is a printer that helps you get the job done without any hassle at all. Youíll need individual black, cyan, yellow and magenta inks to keep your printer in efficient order. The Epson Stylus SX425W ink is available as either the Apple and Fox labelled genuine Epson inks or great value compatible TonerGiant ink.
Be the first to ask a question about these products. Click 'Ask a Question' above to submit your query and we will answer it as soon as possible.
0
Ink Cartridges for the Epson Stylus SX425W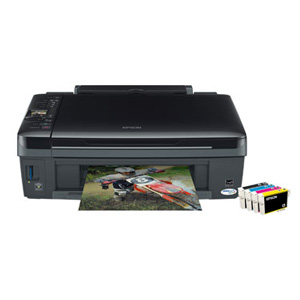 TonerGiantís compatible ink comes with a massive three-year guarantee because weíre so confident youíll be happy with it. The Epson inks come with a standard six-month warranty but youíll need to look for either a fox or apple on the packaging for the Epson Stylus SX425W printer. TonerGiant has a 120% price promise which means we are so sure we are the cheapest for genuine inks that we offer a 100% refund on the difference if you happen to find the ink cheaper somewhere else within a week of your purchase, plus an extra 20% towards your next purchase.
Advantages & Features of the Epson Stylus SX425W
This all-in-one printer with its speedy scanning, printing and copying, Wi-Fi connectivity and managing to get documents out at speeds of up to 35ppm. An exciting feature of the Epson Stylus SX425W printer is its ability to edit and restore old and faded photos. All you need to do is scan them into the printer and use Epsonís software to revive lost memories.
How long will the ink cartridges last?
Both TonerGiantís and Epsonís ink cartridges are available as either standard or high capacity. With standard Epson Stylus SX425W ink cartridges you can expect to see around 185 pages printer whereas with the high capacity inks youíll be able to print around 380 pages.