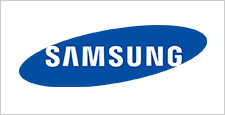 Our Samsung
printer ink
product line includes cartridges for the MJ, MSYS, SCX and SF inkjet printer models. We offer both Samsung original replacement ink cartridges, Lexmark's range of compatibles and our own line of compatible ink cartridges, all with free next working day delivery.
South Korean multinational conglomerate Samsung has a sterling reputation for producing high quality technology. Its flagship company Samsung Electronics based in Suwon offers a wide range of products that include mobile phones, monitors and printers, and it has a huge share of the market, even displacing Apple as the world's largest tech company in 2011. Samsung's success results from its core philosophy of developing innovative, reliable products with an underlying passion for excellence. Samsung's ink is no exception: providing consistent, crisp results for both text and images and an impressive page yield that does not suffer from wasted prints.
As an alternative to our original Samsung ink cartridges, we also offer Lexmark compatibles which can be used with some of Samsung's printer range, where indicated. Lexmark ink cartridges also offer superior print quality and their quoted page yields are always tested to ISO/IEC 24711 standards.
Finally, we have a selection of our own compatible printer ink cartridges on offer that are listed underneath the relevant Samsung models for which they are suited. Our own brand products are backed by our comprehensive 3 year guarantee and our promise to you that your choice of cartridge will not invalidate your printer's warranty or cause any issues with your printer. We have such high confidence in the quality of our Samsung compatible ink cartridges that we guarantee should they cause a problem we will repair or replace your printer, free of charge.