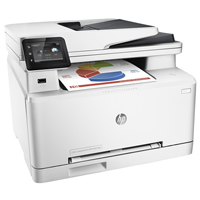 Our 120% price promise means that if you find the same cartridges elsewhere within 7 days of purchase, we'll give you the difference back — and that's a promise.
In the unlikely event that you're unhappy with your new HP print cartridge, we also offer a full and flexible 6 month guarantee on all original cartridges which means you'll be able to get a refund or replacement without any fuss. How's that for complete peace of mind?
What's more, we offer free and fast next business day delivery on everything so why shop anywhere else for your HP replacement Toner Cartridges?
HP M277dw toners & printer
The HP Colour LaserJet Pro MFP M277dw printer is a great printer to own if you need the functionality of an all in one and the ability to automatically print on both sides of an A4 page and save on paper costs. Inexpensive to buy, and simple to use, the M277dw will allow you to print, copy, scan and even fax your important print outs. Plus, with the added benefit of
near field communication
, printing from a mobile should be a doddle.
HP's recommended print output for the M277dw is between 250 and 2500 pages per month, however it should be capable of efficiently printing up to 30,000 pages' monthly, although the main paper tray only holds 150 sheets so you may find yourself constantly refilling the printer on large print jobs.
How many days will the HP 201 toner cartridges last?
The maximum capacity Black toner cartridge you can purchase for this printer is the CF400X and can print up to 2800 pages. In order for that cartridge to last a month (or around 28 days) you could comfortably print up to 100 pages each day. Here is a chart comparing just 3 of the different available toners and how many days they will print for depending on your daily print volumes:
To use the chart all you have to do is pick the cartridge number you want to check from the top row and the number of prints you do on a daily basis from the left column and scroll across for the approximate number of days the cartridge will last.
*The information above is based on toner capacity guidelines produced by the ISO (international standardization organization). The capacities listed are based on 5% of toner coverage on an A4 piece of paper. This means that if you were to print images or large blocks of colour or text, your cartridge will run out much faster.
How long will your cartridge last?
The following table shows you how long your cartridge will last based on how many pages you print each day*
Pages Printed
CF400X Black
CF400A Black
CF401A Cyan
50 Pages
56 days
30 days
28 days
100 Pages
28 days
15 days
14 days
200 Pages
14 days
7.5 days
7 days
500 Pages
5.6 days
3 days
2.8 days
1000 Pages
2.8 days
1.5 days
1.4 days