HP Colour LaserJet Pro M277dw Toner Cartridges
We sell the full range of available toner cartridges for the HP LaserJet M277dw printer (also known as the MFP M277dw), including all standard and high capacity cartridges in the HP 201X toner range. We want you to come back to us every time you need to order so we guaranteed the best price anywhere on the market. Shop now for free next business day shipping on all M277dw toner when you order before 5:30pm Monday to Friday at TonerGiant.co.uk. If you'd like more information on how long your toners will last, scroll to the bottom of the page to view our toner chart.
Q.
Hello!Do you have cartridges for HP Colour Jet M277dw that can be returned empty and build up a credit toward receiving a free cartridge? Thank you!
A.
Hi, we do sell the cartridges for the HP Colour Laserjet Pro M277dw it amazing low prices, we do offer a recycle program but we no longer give a credit for returned empty cartridges as we now donate to the NSPCC. Please follow the link to all the toner options available for your machine: https://www.tonergiant.co.uk/toner-cartridges/HP/HP-Colour-LaserJet-Pro-M277dw/
Q.
Which model of imaging drum will I need for an HP Color Laserjet Pro MFP M277dw?I have an HP 126a imaging drum from another machine which has broken down!
A.
Hi, the MFP M277dw printer doesn't require a drum as they are built into the toner cartridges already. The drum unit you have fits into any of the following printers: HP Colour LaserJet CP1025, HP Colour LaserJet CP1025nw, HP Colour LaserJet Pro M175a, HP Colour LaserJet Pro M175nw, HP TopShot Laserjet Pro M275, HP TopShot Laserjet Pro M275nw
Q.
Do the compatible cartridges display toner levels in the same way that originals do so I know how much I have left? I currently use an inkjet and the after market replacements do not show levels. HP LaserJet Pro M277dw Wireless Colour
A.
Hi there. our compatible toner cartridges are thoroughly tested before we send them out and chips are reset so there should be no problem with your printer recognising the cartridge and showing you the toner levels in the same way that an original HP M277dw toner cartridge does. However, for your piece of mid if you aren't completely happy with your cartridge, we offer a 3 year no fuss guarantee and we will gladly replace or refund your cartridge if it doesn't meet your expectations so it's worth giving them a try and making a good saving.
Q.
What is the difference between the RECF400XPACK and the RECF400APACK apart from the price? They are both coming up as compatible for my printer.
A.
Hello again, the difference is that the toner cartridges in the RECF400XPACK have almost twice as much toner so the number of pages they can print up to are Black - 2800 pages and each of the colours - 2300 pages where the RECF400APACK which is cheaper prints up to Black - 1500 pages and colours - 1400 pages. Thanks, Stu.
Q.
do your own laser cartridges have same features as originals ie do the estimated levels work and software so wont get low level alarm on all time
A.
Hi there, our compatible toner cartridges will work in the same way as the original cartridges but you will need to reset the printer so that the new toners will be recognised and the printer configures correctly.
Q.
HP software update and suddenly a Supply memory error for the yellow cartridge which is not used up. Bought from you 15 February 2016. HP solution is to replace the cartridge. What to know why this has happened.Thank you
A.
Hi Chris, I have researched into this and found the following advice on the HP support website. It does sound like the chip is not being read correctly on the cartridge and replacing the cartridge would not likely fix the issue but following this advice may well fix the issue for you: http://h30434.www3.hp.com/t5/LaserJet-Printing/What-is-a-supply-memory-error-10-1000-How-can-I-fix-it-My/td-p/1099987 If you're still having trouble after trying this, please call us on 0845 365 3605 and we'll do our best to help you to resolve it.
Q.
I bought the following Calendar Icon Date of your transaction: Wednesday 05 Oct, 2016 HP 201X High Capacity Toner Value Pack B/C/M/Y but the Cyan cartridge is faulty and wont produce any ink - what do I do?
A.
Hi Matthew, I will forward your question on to the customer care team who will be in touch shortly.
Q.
I have purchased the UB-T-CF401X set from Toner Giant and installed this into my HP colour Laserjet Pro MFP M277dw. It is not reporting a supply memory error stating the new cartridge is not reporting as installed? I have tried the other replacement cartridges from toner giant in the same printer and they all have the same error. What do I do?
A.
Hi there, this is normally caused by a HP update of firmware in the printer that attempts to prevent the use of compatible cartridges (or any non original HP toner). We have some instructions to follow to correct the error on the following page. Please try these and let us know how you get on. Hopefully this will correct the problem for you: https://www.tonergiant.co.uk/blog/2014/07/printer-not-recognising-compatible-cartridges/
Q.
do you sell a multipack of just the colour cartridges for HP Laserjet Pro M277dw
A.
Hi there, unfortunately we only sell the multi-pack including black toner listed at the top of the page
Q.
Hi, Is the Colour LaserJet Pro MFP M277dw the same as the Colour LaserJet Pro M277dw (as this is the only one you show on your printer list and mine is the MFP version)?
A.
Hi there, that's correct the printer is the same as the MFP version, we just didn't include the MFP part in the description.
Q.
If we have the Hewlett Packard color laser jet pro MFP M277dw which toner cartridges do I order as I can see two options HP201X and HP201A
A.
Hi, you can order either of the two toners as the only difference between them is the amount of toner in the cartridge. The HP 201X can print up to 2800 pages where the 201A can only print up to 1500 pages. If you have any more questions let me know!
Q.
do the compatible toners work for hp m277dw laser printer.Have seen that HP re trying to make printers use only HP toner
A.
Hi there, yes they definitely do. It's illegal for HP to do that due to competition laws so whilst sometimes cartridges don't work due to cartridges being locked that normally effects inkjet printers and there is a way to fix that problem. You'll have no problem with out M277DW compatible toners.
Q.
how to replace black colour
A.
Hi Debra, here's a link to the HP support page where you will see the quick start guide. This should have the instructions on installing the black toner for your HP M277dw printer. If you need any more advice, I'd be happy to help! Stu https://support.hp.com/us-en/product/hp-color-laserjet-pro-mfp-m277-series/7089945/model/7089949/manuals
Q.
Product Code: RECF400XPACK - is this pack compatible with HP MFP M277DW printer
A.
Hi there, yes the RECF400XPACK is compatible with the M277DW printer
14
Toner Cartridges for the HP Colour LaserJet Pro M277dw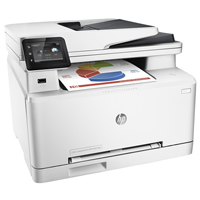 Our 120% price promise means that if you find the same cartridges elsewhere within 7 days of purchase, we'll give you the difference back — and that's a promise.
In the unlikely event that you're unhappy with your new HP print cartridge, we also offer a full and flexible 6 month guarantee on all original cartridges which means you'll be able to get a refund or replacement without any fuss. How's that for complete peace of mind?
What's more, we offer free and fast next business day delivery on everything so why shop anywhere else for your HP replacement Toner Cartridges?
HP M277dw toner & printer
The HP Colour LaserJet Pro MFP M277dw printer is a great printer to own if you need the functionality of an all in one and the ability to automatically print on both sides of an A4 page and save on paper costs. Inexpensive to buy, and simple to use, the M277dw will allow you to print, copy, scan and even fax your important print outs. Plus, with the added benefit of
near field communication
, printing from a mobile should be a doddle. M277dw toner is available in standard / high capacity X versions for those who need to print large jobs.
HP's recommended print output for the M277dw is between 250 and 2500 pages per month, however it should be capable of efficiently printing up to 30,000 pages' monthly, although the main paper tray only holds 150 sheets so you may find yourself constantly refilling the printer on large print jobs.
How many days will the HP 201 toner cartridges last?
The maximum capacity Black toner cartridge you can purchase for this printer is the CF400X and can print up to 2800 pages. In order for that cartridge to last a month (or around 28 days) you could comfortably print up to 100 pages each day. Here is a chart comparing just 3 of the different available toners and how many days they will print for depending on your daily print volumes:
To use the chart all you have to do is pick the cartridge number you want to check from the top row and the number of prints you do on a daily basis from the left column and scroll across for the approximate number of days the cartridge will last.
*The information above is based on toner capacity guidelines produced by the ISO (international standardization organization). The capacities listed are based on 5% of toner coverage on an A4 piece of paper. This means that if you were to print images or large blocks of colour or text, your cartridge will run out much faster.
How long will your M277dw toner cartridge last?
The following table shows you how long your cartridge will last based on how many pages you print each day*
Pages Printed
CF400X Black
CF400A Black
CF401A Cyan
50 Pages
56 days
30 days
28 days
100 Pages
28 days
15 days
14 days
200 Pages
14 days
7.5 days
7 days
500 Pages
5.6 days
3 days
2.8 days
1000 Pages
2.8 days
1.5 days
1.4 days