HP Deskjet 3630 Ink Cartridges
This innovative all-in-one device is ideal for regular home office use, it offers high quality printing as well as copying and scanning. The HP Deskjet 3630 all-in-one printer has exceptional quality resolution prints of 1200x1200dpi for mono and 4800x1200dpi when printing in colour which means only the highest quality ink cartridge replacements should be sourced. Here at TonerGiant we strive to not only offer the cheapest ink cartridges for this device but the highest quality and best value too. Our compatible range of cartridges work to the same high standard as original HP varieties and are significantly lower in price, check these out below.
Q.
Do you have compatable cartridges for a HP Deskjet 3630?
A.
Hello, thanks for your question about compatible cartridges for the HP DeskJet 3630 printer. Unfortunately we haven't yet manufactured the compatible versions of the HP 302 ink cartridges. They are quite a new cartridge so we need to wait until we get enough empty original cartridges back to be able to start manufacturing and recycling them. If you'd still like to purchase the HP 302 cartridges please let us know and we can check if we can arrange a discount for you. You can call on 0845 365 3605 or email support@tonergiant.co.uk
Q.
how do I get the enable /disable screen for hp deskjet 3630 cartridgeprotection
A.
Hi there, on your computer you will need to get to your printer software panel. This is usually done on a windows pc by going to control panel and printers, right click the printer and select properties or on Windows 10 machines, click the start menu, click the cog icon and using the search box type 'printers' and select printers and devices. On the printer software panel, there should be a settings tab, and within that tab an option to disable cartridge protection.
2
Ink Cartridges for the HP Deskjet 3630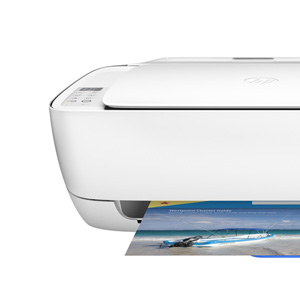 Ink cartridges for this device are available in both single and multipacks, so you can top up your inks as and when required. Opt for the XL variety to enjoy more pages over time and when purchasing from TonerGiant bear in mind that the more you buy, the more you save. So it pays to stock up for future replacement needs. If you are looking specifically for HP original cartridges, we stock both high capacity black and single coloured cartridges.
Advantages & Features of the HP Deskjet 3630 Inkjet Printer
One of the greatest plus points for the HP Deskjet 3630 all-in-one printer is its wireless capabilities, which means no getting up from your seat to plug in and print. Airprint is also supported, meaning you can print directly from your Apple product, whether that be an iPhone, iPad or Mac. Print speeds are great for this device, with 20ppm as standard for mono printing and 16ppm for colour so that important project won't be delayed. An automatic paper sensor also means there is no need to adjust the printer and the paper tray can handle 60-sheets at a time – an impressive feat for a device mainly used in home offices.
How long will the HP Deskjet 3630 inks last?
The XL range of cartridges offer the best value for money when it comes print yield, with the high capacity black ink able to print up to 480 pages and the coloured ink 330 pages. If you are purchasing standard ink cartridges up to 190 pages are available in black ink and 165 in colour, so you can still enjoy a decent length of time using your replacement ink cartridges.