Updated 08/12/2022
If your HP printer is giving you an error message such as HP cartridges locked or any other message that mentions something about HP cartridge protection, then it sounds like you have fallen victim to a printer firmware update and you will definitely be having trouble using compatible or remanufactured inks. You may also see a message like ' Used or counterfeit ink cartridge detected '. You may also have an issue with a new 'HP instant ink' printer or ink cartridges and you do not wish to use the HP instant ink service.
We understand your frustration and agree that everyone deserves to choose for themselves whether or not they want to use third-party inks in their printer without having their HP cartridges locked to another printer. Don't worry, I'm about to show you how to fix this issue and remove HP Cartridge Protection so that it can be bypassed…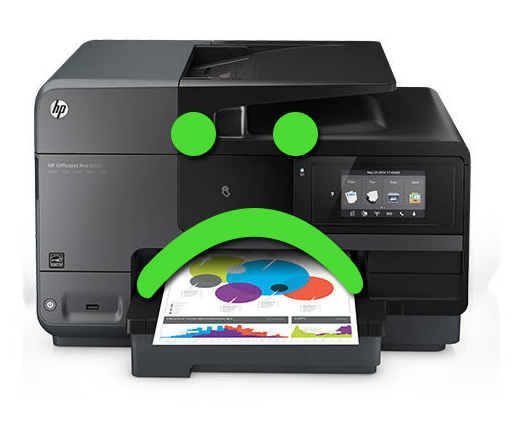 Here's what you'll learn on this page:
What HP cartridge protection means.
Why this happens and why HP locked the cartridges.
How to remove the cartridge protection setting and bypass it in 2 easy steps.
Which printer models and ink cartridges this affects.
Also, We'll look at if it is possible to bypass HP instant ink.
Why are my HP cartridges locked / What is HP cartridge protection?
HP Cartridge protection or the message, ' ink cartridges locked to another printer ', is the message that appears on your printer when one of the following things happens: The ink cartridges that you are trying to use are not original HP ink cartridges and…
Your printer has the cartridge protection setting enabled
The chip on the cartridges you are trying to use was made from empty original HP ink cartridges that have been used in a previous printer with the cartridge protection setting enabled. This in turn locks those cartridges to the last printer they had been used in rendering them unusable in your printer.
You have purchased an HP instant ink printer and don't intend to or no longer want to use the instant ink service but the printer or cartridges are locked.
Why does this happen?
With new printer models that are continuously connected to the internet, software and firmware (permanent software that is built into hardware devices) updates are routinely installed. These updates can change the way your printer operates or in this case add new features. If you see the message HP cartridges locked and you are experiencing this issue then it's very likely that you have recently had a printer update to enable cartridge protection or you have a brand new printer with this feature already built in. The printer can also be locked if purchased a new printer that can be used on the instant ink service and the screen prompt asked you if you would like to use the service and you clicked yes. This would mean that the printer is locked to instant ink services and any installed from that point would also be locked to the printer.
Why did HP introduce this?
Whilst HP cares about their customers and your satisfaction, they also above all else are a business and need to protect itself. One of the largest issues that HP have as a business that costs them millions of pounds if not billions over the years is the problem with counterfeit or fake inks being produced and sold across the market.
Counterfeit cartridges, not to be confused with third-party or compatible cartridges are completely fake copies of the original HP cartridges and are being sold as though they are the original HP cartridges. This is why HP introduced the update. To protect you as their customer and themselves as a business from counterfeit cartridges. Also, HP now provides a service called 'instant ink' where you pay a monthly fee instead of buying ink one cartridge at a time when you run out and this enables them to make sure you are purchasing genuine HP cartridges. Unfortunately, this does also stop the use of compatible or remanufactured cartridges, however, we are legally entitled to use a compatible or remanufactured cartridge if we choose to so there is a way of switching off cartridge protection and preventing the HP cartridges locked message from appearing.
How to disable HP cartridge protection in 2 easy steps
To remove, disable or bypass the cartridge protection setting on your HP printer you will need to use either the settings on the printer control panel (for printers not connected to the internet) or you will need the printer's i.p address for printers that are connected to the internet.
For non-internet connected printers – Find the devices and printers section in your control panel, then select your hp printer. Find the cartridge protection tab in the HP toolbox and click the disable cartridge protection option & save.
For internet-connected printers – Go to your printer and in the settings menu find your printer's i.p address. Note this down and type it into a browser search bar which will take you to your printer configuration page. Click settings and disable cartridge protection.
Please note that when your printer updates again, this setting could be auto-enabled again so you can prevent updates by switching them off in the web services section.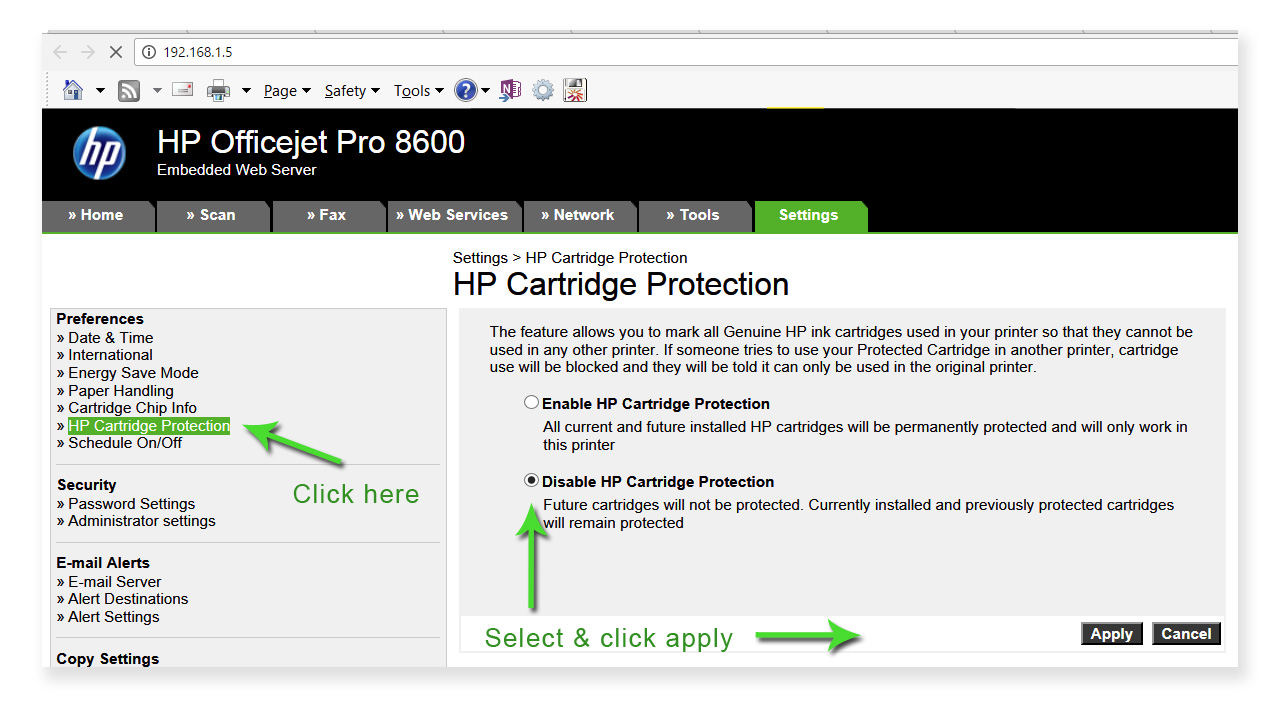 This should resolve your issue and any new cartridges that you install won't be protected however if you do install a compatible or remanufactured cartridge that has been previously protected by another printer, this will not work and you'll need to get a replacement from your supplier. Unfortunately, if a cartridge has been previously locked to someone else's printer then you won't be able to use them in your printer as the lock cannot be removed from a cartridge. You'll need to contact your ink supplier and get a replacement sent to you.
How to bypass HP instant ink
If you have purchased an HP instant ink printer and previously used ink cartridges provided by HP during the instant ink service, or maybe even accidentally clicked yes when the screen prompt asked if you'd like to set up instant ink (and really you didn't want to) then here are some things that you can try to use HP instant inks and printers after cancelling.
If your printer was previously used as an instant ink printer and you want to reset it then you will need to use the menu on the printer to go and reset the printer to its default settings (warning: you will lose all your previous settings and will need to set the printer up again, so be sure you want to go ahead before doing so). After this has been done, and the printer is started up again, make sure that you select 'No' when prompted to use the instant ink service.
Follow the instructions earlier in this article to make sure that cartridge protection is disabled.
Change the following setting. On the printer, screen go to 'Setup' (cog icon) > Preferences > and set 'Store anonymous usage information' to off or no (this may also be called 'data storage').
Install the ink cartridges.
The reason this setting is there is so that HP can track the usage of the cartridges such as when they were installed, what they are (genuine HP or compatible), the number of pages printed when they were last used, print mode used and any errors. This should then stop HP from checking the cartridges for HP instant ink compatibility but the downside is that it may stop the information from correctly showing you how much ink is left in the cartridges. However, the cartridges should now work again. Please bear in mind that this may not work for everyone but if you're at the end of your tether, it could help you out!
How to disable instant ink status
If your printer was previously using the HP instant ink service then it's likely that your printer is still attempting to connect to the internet each time you print, so that it can check the instant ink status of the cartridges. This can be an annoyance, particularly if it prevents you from printing or means you have to get rid of the message each time before it prints. To disable the message / checks, you will need to disable web services and HP ePrint settings. On the printer menu, navigate to settings > Web Service Settings > and set 'HP ePrint' to off and Remove web services. This should prevent Instant ink checks.
Which inks & printer models does cartridge protection affect?
The printers that seem to be affected by the HP cartridge protection setting are the HP Deskjet models, HP Envy, models, HP Officejet, HP Officejet Pro and HP OfficeJet Pro X models of printers listed below.
| | |
| --- | --- |
| Printer Range | Models |
| Envy 4500 range | HP Envy 4500, 4502, 4503, 4504, 4507, 4508 |
| Envy 5500 range | HP Envy 5530, 5532, 5534, 5535, 5536, 5540, 5542, 5543, 5544, 5546 |
| Envy 5600 range | HP Envy 5640, 5642, 5646 |
| Envy 7600 range | HP Envy 7640, 7644 |
| HP Deskjet 1000 range | HP Deskjet 1000, 1010, 1050, 1510, 1512, 1514, 1517 |
| HP Deskjet 2000 range | HP Deskjet 2050, 2054, 2510,2540, 2542, 2443, 2544, 2545, 2547 |
| HP Deskjet 3000 range | HP Deskjet 3000, 3050, 3052, 3054, 3057, HP 3630 |
| HP Deskjet F range | HP Deskjet F2410, F2418, F2423, F2430, F2476, F2483, F2488, F2492, F2493, F4583 |
| HP Officejet | HP Officejet 2610, 2620, 4630, 4632, 4634, 4636, HP 8631 |
| HP Officejet Pro | HP Officejet Pro all models |
| HP Officejet Pro X | HP Officejet Pro X all models |
So there you have it. Hopefully, this will have helped with your frustrations and stopped the HP cartridge's locked message. Please comment below if you need further help or have any other points we may have missed. We'd love to hear from you!