HP Officejet 4500 Wireless Ink Cartridges
This printer incorporates everything you need for a home office, while looking sleek and stylish. This HP Officejet 4500 can print, scan and fax over a wireless network. TonerGiant stocks a range of compatible and original ink cartridges to keep your HP Officejet 4500 wireless printer running smoothly. Compatible ink is guaranteed to work with your printer and our range listed below is manufactured to the highest standards.
Be the first to ask a question about these products. Click 'Ask a Question' above to submit your query and we will answer it as soon as possible.
0
Ink Cartridges for the HP Officejet 4500 Wireless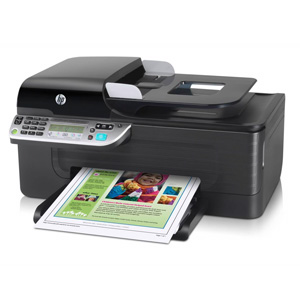 This printer takes tri-colour and black ink cartridges. Sometimes people are put off because if you've only run out of one colour you have to replace the whole thing tri-colour cartridge. On the plus side, ink cartridges from TonerGiant are such good value that it doesn't matter. Plus, they come with a three-year guarantee because we're so certain that you'll be pleased with their quality, but on the off chance that you're not we will offer a no fuss refund.
Advantages & Features of the HP Officejet 4500 Wireless
This practical and well-designed printer is perfect for people who need a bit of everything. With a built in network you minimise the need for messy cables and all the family around the house can connect from their various spaces. This printer is also great value for printing professional colour documents with its 4800dpi x 1200dpi resolution. This is also a speedy printer and can print or copy as many as 28 mono documents per minute and 22 colour documents per minute, so it won't slow you down. The HP Officejet 4500 is an environmentally friendly printer and is also Energy Star qualified.
How long will the HP ink cartridges last?
TonerGiant's compatible ink cartridges will last you the same length of time as HP's original ink cartridges. The black ink cartridges will print up to 700 pages and the tri-colours will print around 360 pages. If you're starting to run low, take advantage of our super fast and free next day delivery to get your ink cartridges in time for that project you've been working on.