HP Deskjet F4180 Ink Cartridges
Ideal for home use or even in a small office, the HP Deskjet F4180 is a printer that prints at a slower rate but always high quality. While it is an older model, itís a reliable machine that many donít want to part with, which means many people are still purchasing replacement ink cartridges - and here at TonerGiant we have a large selection for you to choose from. This includes regular cartridges, for document printing and also photo ink cartridges for when you require the highest standard. Browse the range below and donít hesitate to get in touch with one of our knowledgeable team members for advice.
Be the first to ask a question about these products. Click 'Ask a Question' above to submit your query and we will answer it as soon as possible.
0
Ink Cartridges for the HP Deskjet F4180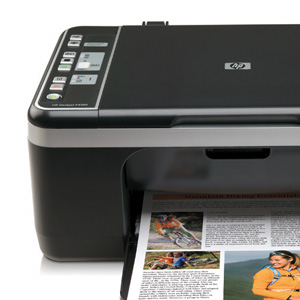 High quality but cheap ink cartridges are what you will find on the TonerGiant website, as we offer both original HP and our own range of compatible ink cartridges. These have been created to offer better value for money but are guaranteed to work with your HP Deskjet F4180 printer. Available in single colours or multipacks, you can save more money the more you buy so why not stock up for future replacements?
Advantages & Features of the HP Deskjet F4180 Inkjet Printer
As noted, this machine is an older model and although there have been various upgrades introduced to the market many are unwilling to part ways with this device. Its reliable performance is what many enjoy, even though print speeds are not particularly high. However, this printer is compatible with most PC and Mac systems and while it does not offer wireless capabilities those needing to print can connect via wired USB.
How long will the HP Deskjet F4180 inks last?
This printer offers a monthly duty cycle of 500 and therefore the ink cartridges it uses reflect this capacity, with black cartridges offering print runs of 165 pages and tricolour cartridges up to 500 in our compatible range. The optional photo ink cartridge can print up to 140 pages, so you can enjoy great photographic images over a long period of time.