HP Deskjet 3050 Ink Cartridges
The HP Deskjet 3050 is a great choice for anyone looking for a speedy, versatile home printer. This is an all-in-one model that can scan, print and copy - it connects wirelessly too, so it's perfect if you need to print on the go from anywhere within the home. It's a reliable and affordable printer - and to ensure a consistent performance, browse our selection of cheap printer ink cartridges.
Q.
can I safely use 350 and 351 inkjets on HP 3050 Printer
A.
Hi there no, the uk version of the HP 3050 printer only takes the HP 301 cartridge range so the 350 range would not work in that printer. You can find the correct cartridges on this page: https://www.tonergiant.co.uk/ink-cartridges/HP/HP-Deskjet-3050/
1
Ink Cartridges for the HP Deskjet 3050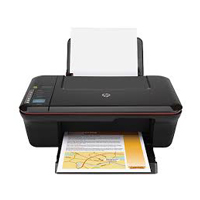 With a strong range of printer cartridges, Toner Giant offers the best price ink cartridges for the HP Deskjet 3050. The following cartridges - including all ink cartridges, print-heads and maintenance products - are guaranteed to work in the HP Deskjet 3050 printer. To ensure you are completely happy with any cartridges you buy from us, we offer a 120% price promise and a three year guarantee. All our cartridges are printer warranty protected.
Advantages & Features
The main advantage of the HP Deskjet 3050 is a fast print speed and allied with its easy installation features and wireless connectivity, it makes for a printer that is perfect for home use. A nice feature is the LCD panel, which allows users to turn the wireless function on or off, print quickly, make copies and also order new ink supplies just by touching a button. It's also energy efficient - the HP Deskjet 3050 is Energy Star qualified so it will help to reduce costs and save money. All in all, this is a great value, easy to use, printer.
How long will the cartridges last?
To get more from your printer cartridges, go for a high yield cartridge. Our Compatible HP No.301XL Black/Tri-Colour Ink Multipack includes all four colours required and is a great value purchase. Alternatively, you could buy the Compatible HP No.301XL High Yield Black Cartridge and team that up with the Compatible HP No.301XL High Yield Tri-Colour Ink Cartridge. All work with the HP Deskjet 3050 just as well as HP original ink cartridges. With Toner Giant, you can buy with confidence - our 120% price promise means we believe we have the cheapest ink cartridges in the UK.