HP Envy 4524 Ink Cartridges
Looking for HP Envy 4524 ink cartridges? With one of the cheapest and most compact printers on the market today, you'll no doubt be looking for the best value HP ink cartridges to go with it. We have the full range of available HP 302 and 302XL ink cartridges all of which are guaranteed to work perfectly in your Envy 4524 inkjet printer and all inks include super fast free UK delivery. For more information or help with your HP Envy 4524, scroll to the bottom of the page.
Q.
Does the HP302XLPack colour pack have 4 cartridges in it? It looks like it does.
A.
Hi there, the HP 302XL colour pack contains one of the black 302XL ink cartridges and one of the tri colour 302xl ink cartridges. The printer actually only needs 2 cartridges as the colour ink contains all 3 of the colours that you often see come as separate ink cartridges for other printer models. If you need any more help please let me know!
Q.
How come the black and colour cartridges print different amounts?
A.
Hi Ryan, the black and colour cartridges contain different amounts because normal or the average print user tends to print more in black than they do in colour which would often result in lots of colour ink being left over once the black inkjet cartridge had run out. So the printer manufacturers such as HP tend to offer more page prints and more ink in the black ink cartridge.
Q.
Do you have HP 302 compatibles? Im looking for a cheaper option.
A.
Hi there, unfortunately we don't currently have any compatible inks for the Envy 4524 printer at the time being. We do add new products quite regularly so I would imaginge that they will be available very soon once we have manufactured some.
Q.
Please could you advise me how I can find my passcode for my HP Envy Printer 4524 I have forgotten it.Thank you
A.
Hi there, if you are referring to the wifi connect password, I believe to get it you need to print out the network config sheet from the settings menu on the printer.
4
Ink Cartridges for the HP Envy 4524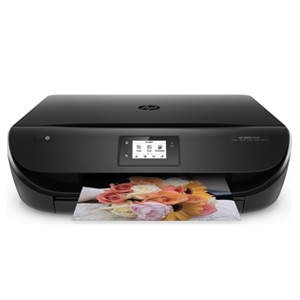 The Envy 4524 inks come in 2 separate colour cartridges, each also coming in 2 different sizes of standard and XL. The printer takes the HP 302 black ink, HP 302 tri-colour ink, HP 302 XL Black ink and HP 302XL colour ink cartridges.
HP Envy 4524 All-in-one Inkjet Printer
The HP Envy 4524 inkjet printer is a great, cheap multifunction printer with more pros than cons. It's very easy to set up, very easy and straight forward to use, has air and wifi print functionality. The only major cons are that it can be quite noisy, and can be a little bit slow if you prefer a fast printer. Plus with such a low initial cost there isn't much to complain about if you just need a cheap home printer and average print quality isn't an issue. The Envy 4524 is one of HP's new subscription based ink models (HP instant ink) but subscribing to a monthly cost may well not be for you, and if that's the case then you should expect to pay between £40 to £50 for a full set of black and tri-colour ink cartridges.
This printer offers great features considering the low initial cost such as automatic duplex printing which allows you to print on both sides of a piece of paper without having to manually turn the paper over, Wifi print and Apple air print capabilities, and it's even capable of print, copy and scan. If you'r looking for support, help setting up, user guides or even to update your software, you can find all you need on the
HP ENVY 4524 support page.
How long should my HP ENVY Ink Cartridges last?
You may be wondering how long will my HP 302 ink cartridges last.This can very much depend on how frequently you intend to use your printer. The following infomation will give you a general guide on how many days your cartridges will last depending on how much you print.
All you need to do is choose which cartridge you have purchased from the top row of the chart, then select approximately how many pages you print per day from the left column and scroll across to see how many days your inks will last.
*The infomation we have provided is based on the standard print guidelines cartridge yields which is 5% or ink coverage on an A4 page. Therefore, if you are printing images or large blocks of shading, unfortunately your cartridge will run out a lot faster.
How long will your ink last?
The following table shows you how long your cartridge will last based on how many pages you print each day*
Pages Printed
HP 302 Black
HP 302 Tri-Colour
HP 302 XL Black
1 Page
190 days
165 days
480 days
5 Pages
38 days
33 days
96 days
10 Pages
19 days
16.5 days
48 days
20 Pages
9.5 days
8.25 days
24 days
40 Pages
4.75 days
4.1 days
12 days