HP Envy 5644 Ink Cartridges
We sell a complete range of ink cartridges for the HP Envy 5655 Inkjet printer, including the Black and Tri-Colour cartridges in both standard and XL sizes. We guarantee the best prices with our 120% price promise, and all our cartridges are delivered free the very next working day when ordering before 5:30pm Monday to Friday.
Be the first to ask a question about these products. Click 'Ask a Question' above to submit your query and we will answer it as soon as possible.
0
Ink Cartridges for the HP Envy 5644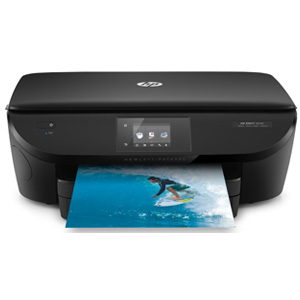 The 120% price promise means that if you find the same cartridges elsewhere from an online retailer within 7 days of purchase, we'll give you the difference back as a refund, plus an extra 20% of the difference back as vouchers to use against your next order. All our HP ink cartridges come with a compressive 6-month warranty, so if you're not completely satisfied with your purchase, we'll get a replacement to you right away or your money back.
Everything at TonerGiant.co.uk is free next-working day delivery subject to stock, so we're a perfect choice if your wanting to save money and need replacement printer supplies in a hurry.
HP Envy 5644 Inkjet Printer
The HP Envy 5644 is a well-specified multi-function Inkjet printer boasting impressive features such as automatic duplex technology which will allow it to print on both sides of a sheet of paper. This printer is ideally suited for photographic printing as it is capable of producing a print resolution of 4,800 x 1,200 dpi and can print edge to edge (borderless). Other features include scan and copy but it does not have a fax facility.
The ink cartridges for the HP Envy 5644 include HP 62, HP 62XL, HP 62 Tri-Colour and HP 62XL Tri-Colour. A multipack exists for this cartridge range which can offer a saving compared to buying the HP 62 and HP 62 Tri-Colour separately.
How long should my HP inks last?
The standard capacity HP 62 Black ink cartridges have an expected print capacity of 200 pages. This is based on 5% ink coverage on a standard A4 sheet. In comparison the HP 62 XL Black cartridge has an expected print capacity of 600 sheets at the same coverage volume, triple the standard cartridge.
To use the chart all you have to do is pick the cartridge number you want to check from the top row and the number of prints you do on a daily basis from the left column and scroll across for the approximate number of days the cartridge will last.
*Please note that this information is based on the standard guidelines for print capacity which is 5% or ink coverage on the paper. Therefore, if you are printing images or large blocks of colour, photographs or shading, your toner will run out much quicker.
How long will your HP inks last?
The following table shows you how long your cartridge will last based on how many pages you print each day*
Pages Printed
HP 62
Tri Colour
HP 62
Black
HP 62XL
Black
10 Pages
17 days
20 days
60 days
30 Pages
6 days
7 days
20 days
50 Pages
3 days
4 days
12 days
100 Pages
2 days
2 days
6 days
150 Pages
1 days
1 days
4 days