Lexmark C522TN Toner Cartridges
The Lexmark C522TN is a large colour laser printer equipped for businesses needing to print items such as cards, envelopes and labels on a regular scale. It's definitely not a printer for home - but Toner Giant still has a range of printer toner for the Lexmark C522TN so users don't need to look any further when it's time to restock. Browse our selection of toner cartridges, all of which are guaranteed to work in the Lexmark C522TN printer.
Be the first to ask a question about these products. Click 'Ask a Question' above to submit your query and we will answer it as soon as possible.
0
Toner Cartridges for the Lexmark C522TN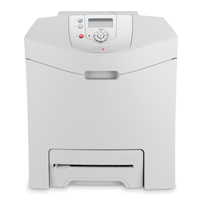 At Toner Giant, you'll find a good range of printer toner for the Lexmark C522TN. Because this model of printer is for business use, prices for toner are not particularly cheap but output is high and our pledge - that we won't be beaten on price - remains in place. We offer a 120% price promise, which vows that if you see the same product cheaper anywhere else - even up to seven days after purchase - we'll not only give 100% of the difference back via a refund but also 20% of the difference back as a gift voucher. We also offer free and fast next working day delivery.
Advantages & Features
The Lexmark C522TN supports a vast range of media sizes - as you might expect from a large printer equipped for business use, it can handle many forms of output. It can print A4 and A5 and also B5, C5 and DL envelope, Executive, Folio, Legal and others. Print speed varies depending on colour or black and size. As an example, speed for a letter in black and colour is up to 20ppm; it's up to 19ppm for A4 in black and colour. Print resolution in black and colour is 1200 x 1200 dpi with 4800 colour quality.
How long will the cartridges last?
Toner for the Lexmark C522TN is not particularly cheap - this is not a small home printer - but it does work hard and goes a long way. As an example, the Lexmark C53034X four pack (which provides black, cyan, magenta and yellow) has a duty cycle of up to 20,000 pages while other toner products will print up to 3,000-4,000 pages. For best value, our high capacity toner value pack (product code C5220P) comes highly recommended.