Lexmark CX310dn Toner Cartridges
The Lexmark CX310dn printer is an efficient, heavy use printer and it's probable that your printer is used every day by multiple people which means you'll need to replace toner cartridges quite often. You'll find the best value Lexmark toner for your printer right here at TonerGiant and all toners and maintenance cartridges listed on this page are guaranteed to work in your printer perfectly. CX310dn toner cartridges can be purchased in 2 different capacity cartridges so depending on how much you need to print, choose from either 1000 or 2000 pages. If you're looking for a cheaper option, we also offer compatible alternatives with a 3 year guarantee.
Q.
Waste Toner bottle required for Lexmark CX310dn but cant see as listed?
A.
Hello, thank you for taking the time to get in touch with us concerning the waste toner tank for your machine. I've managed to locate it for you, you need the Lexmark 0C540X75G. Please follow the link directly to the item available on our website https://www.tonergiant.co.uk/product/Lexmark-0C540X75G-Waste-Toner-Bottle-0C540X75G-2969/
Q.
do you have replacement waste toner cartridges for Lexmark cx310dn
A.
Hi there, that's now been added for you and you can find it on this page or here: https://www.tonergiant.co.uk/product/Lexmark-0C540X75G-Waste-Toner-Bottle-0C540X75G-2969/
Q.
Im getting black and magenta spots on my prints. If I replacethe black and magenta photodeveloper units will this stop this happening.
A.
Hi there, there could be a number of causes for this issue. Here's a link to a Lexmark support page with some things you can try or check for your particular issue. It suggest the issue could be with the photoconductor units (drum units), but this can be checked. Here's the link, http://support.lexmark.com/index?page=content&locale=en&productCode=LEXMARK_E120&segment=SUPPORT&clearQuestion=Y&userlocale=EN_US&id=SO4523 If you need any more help, please let me know! Here's another generalised page that also suggests checking the photo conductor unit: http://support.lexmark.com/index?page=content&id=SO2398&locale=EN&userlocale=EN_US
Q.
why is it cheaper to buy a new Lexmark CX310dn than new toner for it?
A.
This generally tends to be the case with printers as the printer manufacturers often price printers so low that they actually don't make any money with the premise that they will get a return when selling the ink or toner cartridges. Our price shifts based on changing manufacturer costs and we keep prices of toner as low as possible.
Q.
The Lexmark 802S compatible: how many pages do the cartridges print?
A.
Hi John, the number of pages printed for each compatible toner is listed next to the product image on this page (the pack contains one of each of the toners). For black the pages it can print is up to 2500 and colours can print up to 2000 pages.
Q.
How can the developer unit be cheaper yet it prints a lot more than the toner cartridges?
A.
Hi there, thanks for getting in touch with a question. The developer unit is actually a maintenance part of the Lexmark CX310dn printer and does not contain toner itself. The page count on that product is a 'duty cycle' not a page yield which means that it lasts during 40,000 print processes of the machine rather than it prints pages. If your printer is empty and you need to print, you will need to purchase a toner cartridge rather than a developer (unless the printer states that the developer also needs to be replaced). If you have any more questions, please get in touch!
6
Toner Cartridges for the Lexmark CX310dn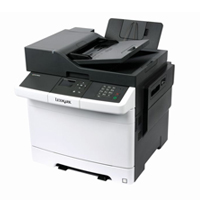 Considering that the Lexmark CX310dn multifunction printer is quite a high use machine, capable of printing a large amount on a daily basis, the toner cartridges available are not too expensive, however you will eventually need to replace all 4 colours and eventually all imaging units (drum cartridges) but that doesn't mean you can't save a lot more by purchasing our compatible alternatives at the top of the page.
Lexmark CX310dn A4 Colour Laser Printer
The Lexmark CX310dn laser printer boasts auto duplex and network capabilities as well as fast print speeds and high quality prints, offering a great all round printer for any office. Automatic duplex means that it will print on both sides of the paper without you having to turn the paper over half way through a print out, and the printer will comfortably print out 23 sheets per minute or in other words around 3 seconds per A4 page.
This printer is ideal for offices who need to print anything from 30,000 and up to 60,000 pages per month which adds up to about 2000 pages per day. The toners that come with the printer can print up to 1400 pages and you can choose to purchase new toners that print up to either 1000 or 2000 pages each depending on your requirements.
How long should my Lexmark CX310dn toner cartridges last?
Each colour toner comes in a choice of either 2000 pages or 1000 page capacities and the black cartridge can be purchased in a choice of either 2500 pages or 1000 pages so I will show how long a large colour cartridge and both black cartridges would last.
All you need to do is choose which cartridge you have purchased from the top row of the chart, then select approximately how many pages you print per day from the left column and scroll across to see how many days your toner will last.
*Please note that this information is based on the standard guidelines for print capacity which is 5% or toner coverage on an A4 page. Therefore, if you are printing images or large blocks of shading, your cartridge will run out faster.
How long will your cartridge last?
The following table shows you how long your cartridge will last based on how many pages you print each day*
Pages Printed
80C20K0 Black
80C2SC0 Cyan
80C2SK0 Black
100 Pages
25 days
20 days
10 days
500 Pages
5 days
4 days
2 days
1000 Pages
2.5 days
2 days
1 days
2000 Pages
1.25 days
1 days
0.5 days
3000 Pages
0.8 days
0.66 days
0.33 days
Which Toner Should I buy?
There are a lot of different options available when it comes to buying the replacement toners. Considering that this printer is a high use machine and it's very likely that you print lots of pages each day then the best option will always be to purchase a full toner set or high capacity individual toner cartridges such as the 80C2SPACK or 80C2SK0 which will give you up to 2500 pages for a better price than buying a lower capacity option.