HP Photosmart Premium e-A-i-o Ink Cartridges
The HP Photosmart Premium e-All-in-one printer offers great value and important dependability when printing documents and photos in your home. Our HP Photosmart Premium e-All-in-one printer inks are guaranteed to work with this device and we understand that using the correct replacement ink cartridges ensures superior performance and reliability in your device. We offer a huge range of ink cartridges for this printer, browse the range below and receive your replacement by taking advantage of our next day delivery service.
Q.
Do you have any special offers on cartridges for the Photosmart HP ink cartridges, I'd like to find the cheapest price I can?
A.
Hi, thank you for getting in touch. We do currently have some offers available on our own brand compatibles if you are intersted in purchasing those? Please let me know by email on support@tonergiant.co.uk. I will also drop you an email with the current available offers incase you do wish to go ahead and purchase our high quality compatibles.
1
Ink Cartridges for the HP Photosmart Premium e-A-i-o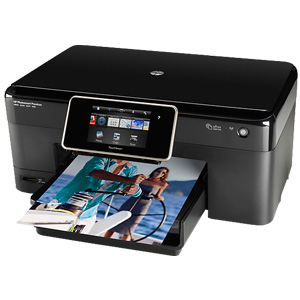 TonerGiant stocks both compatible and branded ink cartridges for your HP Photosmart Premium e-All-in-one printer. Our compatible cartridges come with a three-year guarantee, to ensure you make your purchase with complete peace of mind. We also stock HP's own brand of ink cartridges including their High Capacity and Use & Return bundles.
Advantages & Features of the HP Photosmart Premium e-A-i-o
This e-technology HP printer is a solid performer with a competitive output and great print quality. It comes with the ability to edit photos and documents via on-screen shortcut apps. While the touchscreen panel has received poor reviews for the delays and system hang-ups it has been noted that this improves over time according to user reviews. The HP Photosmart Premium e-All-in-one uses a five ink concept, saving you money when it comes to replacement cartridges.
How long will the inks last?
TonerGiant stock a range of compatible and original ink cartridges for the HP Photosmart Premium e-All-in-one printer, both of which work to the high performance on the printer. You can either buy a multipack including yellow; magenta, black and cyan or you can buy the inks individually, depending on how you use the printer as those document printing will notice their black ink deplete quicker than the rest. Each ink cartridge should print up to 250 pages depending on what you're printing.