Canon PIXMA MG4250 Ink Cartridges
The Canon Pixma MG4250 is a compact all in one printer with print, scan and copy functions. It's an excellent printer, perfect for home use with wireless functionality and high photo print output. To ensure optimum performance it's vital to use the correct printer cartridges - browse the selection of cheap printer cartridges below before making your choice. At Toner Giant, we have the best price ink cartridges available.
Be the first to ask a question about these products. Click 'Ask a Question' above to submit your query and we will answer it as soon as possible.
0
Ink Cartridges for the Canon PIXMA MG4250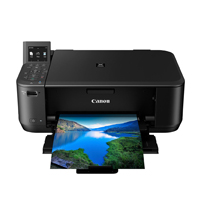 There is a wide range range of printer cartridges for the Canon Pixma MG4250 and here at Toner Giant, we won't be beaten on price. We offer a three year guarantee with our products and a 100% satisfaction promise, as well as a 120% price promise. As well as Canon Original Ink Cartridges, we have a selection of Toner Giant compatible ink cartridges which are among the cheapest print inks online..
Advantages & Features
The Pixma Cloud Link function allows users to print directly from the internet, which means photos can be printed in professional quality within seconds. It's also smartphone and tablet ready which provides ultimate flexibility - users can print from and scan to their smartphone and tablet via the Canon PRINT app. Photos, emails, web pages and documents can all be printed wirelessly from mobile devices such as an iPhone and iPad.
How long will the cartridges last?
Toner Giant compatible ink cartridges provide good value and quality. For example, our Canon PG-540XL and CL-541XL Ink Multipack - product code REPG540CL541XL - contains all four colours required (black, cyan, magenta and yellow) and has a high yield performance. The XL range of cartridges for the Canon Pixma can offer users savings of up to 50% per page.