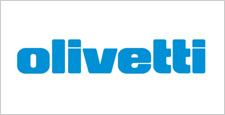 We stock a wide range of original Olivetti
printer ink cartridges
for the most popular Olivetti inkjet and fax machines including Any Way, Faxlab, JP, My Way, OFX and Simple Way. Our Olivetti cartridges are available with free next business day delivery – simply place your order Monday to Friday before 5.30pm.
Italian Company Olivetti was founded in 1908 and originally manufactured typewriters. In 1948 the company produced Italy's first electronic computer, and by the 70s they had achieved status as the biggest manufacturer of office machines in Europe. Olivetti's success resulted from their preoccupation with design which evolved into a corporate philosophy, and this is still evident in their branded products today. Olivetti's products are sold in 83 countries and although it holds a much smaller market share in contrast with some of the bigger household names, its computer products and consumables are still highly regarded as offering exceptional quality and performance. Olivetti ink cartridges are dependable and consistent, producing the same high standard of print time after time.
All of our Olivetti cartridges are guaranteed to work in the Olivetti printer for which they were intended, and are backed by a 6 month guarantee for your peace of mind. In addition we operate a no-hassle refund or replace policy: should you be dissatisfied with your purchase of Olivetti ink cartridges from us, we will arrange collection and your money back or delivery of another cartridge. In addition, we guarantee that you will pay the lowest price for our Olivetti products, or we'll refund you the difference plus a 20% credit of the difference for use on a future order.