HP Colour LaserJet CP5225 Toner Cartridges
This professional printer will do well at home or in the office. The HP Colour LaserJet CP5225 is a versatile A3 printer that can easily print everyday business documents as well as wide-format projects and marketing materials while still being affordable. To keep your LaserJet printer working to the best of itís ability, make sure you use either Toner Giantís compatible toner cartridges, or HPís original toner cartridges.
Q.
I am getting an "incompatible toner" error message in my HP CN5225dn. How can I clear this to over-ride the message?
A.
Hi, this can be caused by a number of reasons such as dirty contacts, or a need to reinstall the cartridge. Please try the following things....If you can, run the alignment and cartridge clean program, carefully take out the toner cartridge and wipe the contacts on the ends of the toner with a lint free cloth / check all seals have been correctly removed. Whilst the toner cartridge is out of the printer, turn off the printer, unplug it. Leave for a few minutes and then power back up, re-insert the toner and the printer should have reset. If none of these things work or you'd rather speak to us, please call us on 0845 365 3605 and we'll do our best to help.
1
Toner Cartridges for the HP Colour LaserJet CP5225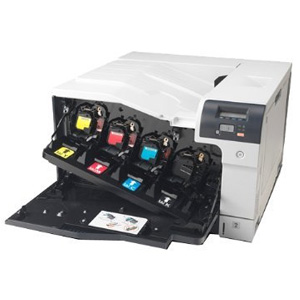 You have two options when it comes to kitting out your HP Colour LaserJet CP5225 with some toner cartridges and that includes opting from our compatible range or the original HP products on the site. TonerGiantís compatible toner cartridges are manufactured to extremely high standards and are guaranteed to work with your printer. They are much cheaper than original toner cartridges too and they come with an enormous three-year guarantee that covers all faults, but weíre confident you will be very happy.
Advantages & Features of the HP Colour LaserJet CP5225 printer
This laser printer has a 540Mhx processor, which means itís basically the Ferrari of the printing world churning out as many as 20 pages per minute in both colour and monochrome. The documents it produces are no rush job either, at 600 x 600dpi your documents will be crisp, clear and looking good. The HP Colour LaserJet CP5225 is also easy when it comes to connectivity, with the option of either plugging in directly using the USB port or via the HP network.
How long will the HP Colour LaserJet CP5225 toner last?
Despite the steep prices of toner cartridges the main benefit is that you hardly ever have to replace them. TonerGiantís own brand of HP toner cartridges will last for up to 7,300 pages Ė the same as HPís original cartridges but at a much lower cost. TonerGiant also stocks a waste toner collection unit with a duty cycle of 36,000 pages if youíre looking for one! We can also guarantee you the best price for your toner cartridges with our 120% price promise.