HP LaserJet P1005 Toner Cartridges
This dynamic printer will meet all of your small business needs with its ultimate efficiency. Itís a powerful machine that will only keep printing for you with the right toner cartridges. TonerGiant stocks great value compatible black toner cartridges for your HP LaserJet P1005 as well as HPís original toner cartridges. We are so confident that our compatible toner cartridges will work excellently with your printer that they come with a three-year guarantee to cover any problems should they arise.
Q.
Is the CB435A toner cartridge that you sell new or a refill ?
A.
Hi there, we do sell the new HP CB435A cartridge as well as the compatible version. You can find the original HP cartridge on the following page here: https://www.tonergiant.co.uk/product/HP-35A-Black-Toner-Cartridge-CB435A-CB435A-1598/ If you'd like any more help or have more questions please let us know on support@tonergiant.co.uk
Q.
Do you deliver to the US? If so is shipping still free?
A.
Hi there, thank you for your enquiry. Unfortunately we don't currently ship over to the US as our couriers only deliver in and around the United Kingdom. Thanks for your interest though, we will definitely consider extending our delivery options internationally in the near future. Stu.
2
Toner Cartridges for the HP LaserJet P1005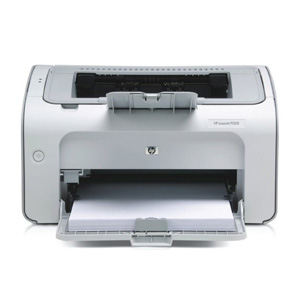 The compatible toner cartridges from TonerGiant are guaranteed to work with your HP LaserJet P1005 and come at great value for money. The beauty of toner cartridges is that they last you such a long time, TonerGiantís should print you up to 1,500 pages. Toner cartridges also donít dry out like ink does, so, even if your printer goes unused for a while, the printer quality will remain the same. However, if you buy your HP original toner cartridges from TonerGiant you will receive twice the number of prints with the HP 35A Black Toner Cartridge Dual Pack for a reduced price.
Advantages & Features of the HP LaserJet P1005 laser Printer
The HP LaserJet P1005 monochrome laser printer with power save and Instant-on technology will save you time, money and waste with its super efficient mechanisms. This is an Energy Star rated printer due to its energy saving costs and economical design. This printer packs a punch with a powerful 133MHz processor and 2MB of memory meaning it can print as many as 15 pages per minute. The print quality is also exceptional at 1200dpi to make your documents look professional.
How long will the HP LaserJet P1005 toners last?
The HP LaserJet P1005 has a monthly duty cycle of 5,000 pages helped along by its 150-sheet input tray and hard working toner cartridges that will last you for around 1,500 pages depending how much youíre using them. If youíre running low and need your toner cartridges fast then take advantage of our free next day delivery and order before 5:30pm.