HP Colour LaserJet CP2025 Toner Cartridges
Buy HP CP2025 toner with free next day shipping and to make sure that you get the best print out, choose from our full range of low cost toners below, all guaranteed to work perfectly in your Printer. The CP2025 Laser Printer is a great option for any business user, offering superior print speeds that will help you to get your work done faster and more efficiently than ever before. HP colour laserjet CP2025 toner can be purchased in a full colour set or as individual toners if you only need to replace one of your cartridges. We also sell a Black toner dual pack if you have a larger than normal print job at hand.
Q.
Hi, what paper am I best using for the CP2025 printer?
A.
Hi there, that depends really on what you are printing. If you need high quality prints for brochures or leaflets etc... I'd recommend a decent quality colour laser paper with high weight such as the following: https://www.tonergiant.co.uk/product/Xerox-A4-Colotech-250-gsm-Paper-003R97975-85622/ However, with a HP printer I would recommend sticking with HP paper. If you only need paper for general office prints then we have a great range that can be found here: https://www.tonergiant.co.uk/products/Copier-&-Laser-Paper-1311/?filter=manufacturer||HP
Q.
Do you sell additional printer trays for this printer? The one we use only had 150 sheet output and I need a higher capacity?
A.
Hi there, we don't currently sell additional paper trays on the website however they are available from our manufacturers so I will get in touch directly with you once I have checked into the pricing and I'll then be able to give you a better idea of what it might cost for you. Alternatively if you'd like to speak with us first you can call directly on 0845 365 3605.
Q.
Mine is the CP2025X, does that matter. Will this toner work properly?
A.
Hi there, the only difference between the HP CP2025 and the HP CP2025X printer is that there is a few additional functions like duplex (printing automatically on both sides of the paper) and connectivity and also the 'X' model contains an additional paper tray. The CP2025 toners are exactly the same for every single model in the series which is the HP 304A and HP 304L toner cartridges. If you need any more help, please let us know!
Q.
I've got an error code 79 on my printer screen, what do I do?
A.
Hi there, not a problem this is something that we have some experience with ourselves. It's usually caused by a corrupt print job so all you need to do is clear the print job list on the PC and restart your printer. Then try and reprint from a different web browser. You can find out full instructions here: https://www.tonergiant.co.uk/blog/2016/11/hp-cp2025-printer-error-79-fixed-4-easy-steps/
Q.
How many pages can a cartridge print? HP Laser Jet CP 2025
A.
Hi there, the toner cartridge page yields are listed on this page next to the image of each product (apart from the packs), the colours can print up to 2800 pages and there are 2 black options which are dual pack or single black toner that can print 3500 pages.
5
Toner Cartridges for the HP Colour LaserJet CP2025
Get the best value on the full range of CP2025 toner cartridges right here at TonerGiant. We sell both standard and economy original HP toners and if youíre interested in saving a little more, we also offer High quality compatible alternatives that are less than half the price of the originals.
HP Colour LaserJet CP2025 printer series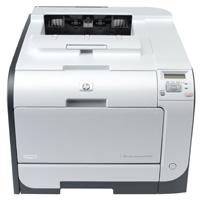 If youíve ever used the HP CP2025 printer series, then Iíve no doubt you wonít have been disappointed with its abilities. Using HPís instant on printer technology means that you wonít be waiting a long time for the printer to warm up and print out that first page, and itís plain sailing afterwards with both black and colour toner print speeds of up to 21 pages per minute.
HP also claims print shop quality pictures and photographs which will allow you to cut the ties from expensive marketing costs. Youíll have quick access to HP marketing templates and print quality of 600 dots per inch. The HP Colour LaserJet CP2025dn, CP2025n and CP2025x printers are aimed at small to medium businesses and can be used by a team of 1 to 8 people, however the recommended output for the printer to remain economical and efficient is 750 Ė 2000 pages each month, so if you currently print more or even less, itís time to find a new machine.
Which HP CP2025 toner should I buy?
There is a selection of different toner cartridge options available in the HP 304 range including standard and low capacity economy cartridges in each of the colours; Black, Cyan, Magenta and Yellow. The largest cartridge that you can purchase is the Black HP 304A which can print up to 3500 pages.
To choose the right toner and not spend too much money really depends on how you use your printer, and how much you print each day. If you donít use it that often, an economy toner will be ideal but if you print lots then stretching for a higher capacity cartridge makes more sense.
Take a look at the chart on the right and youíll have an idea of how long each cartridge will last, based on how much you print.
*information was calculated based on a 5% coverage of an A4 page devised by the ISO, which equates to half an A4 page filled with text. If you are printing more, your cartridge will run out faster.
How long will your cartridge last?
The following table shows you how long your cartridge will last based on how many pages you print each day*
Pages Printed
HP 304A Black
HP 304A Colour
HP 304L Black
50 Pages
70 days
56 days
24 days
100 Pages
35 days
28 days
12 days
500 Pages
7 days
5.6 days
2.4 days
1000 Pages
3.5 days
2.8 days
1.2 days
2000 Pages
1.75 days
1.4 days
0.6 days