HP Colour LaserJet Pro M252dw Toner Cartridges
We have the full range of HP M252dw toner cartridges listed on this page that you will need once your current toners are empty. There is quite a list of printer toners to choose from so if you'd like any help at all to make sure you pick the correct cartridge then feel free to call us on 0845 365 3605 and speak to one of our friendly team. Every single HP 201A or HP 201X toner come with free next business day shipping providing that they are in stock and you place your order before 5:30pm Monday - Friday.
Q.
Do the compatible cartridges for M252dw work as well as the originals?
A.
Hi, we manufacture our compatible cartridges to a very high standard and have a very low failure rate, plus just to give you a little more confidence we offer a huge 3 year guarantee. In all honesty, they will never be exactly the same as the originals as they contain recycled components however for the price difference, they are very good and worth a try if you'd like to save the money. We want you to be happy with your decision, so if you aren't completely satisfied let us know and we'll offer a full exchange or refund.
Q.
Do you recycle cartridges for older toner cartridges?
A.
Hi there, thanks for getting in touch. We do offer a toner cartridge recycling service that allows you to print off a label and send them away or call for a recycle box that can be collected by our recycling partner. You can find all the information on the following page here: https://www.tonergiant.co.uk/recycling/
A.
Hi, the Black CF400A cartridge can print up to 1500 pages and each of the colour cartridges can print up to 1400 pages.
Q.
Hello,I need to order toner in all colours for my color laser jetpro M252dw. Whats the best to get? Im guessing a multipack, but which one? Thank you,Rachel
A.
Hi Rachel, sorry we missed your message, the office closes at around 5:45pm. The choice is yours really. We have compatible multi-packs that are much cheaper and very high quality (manufactured here in the UK). If you'd like one of those, I'd suggest the high capacity pack but unfortunately it's out of stock so the lower capacity pack is here: https://www.tonergiant.co.uk/product/Compatible-HP-201A-Toner-Value-Pack-B-C-M-Y-RECF400APACK-87142/ If you'd prefer HP toners then I'd again opt for the higher capacity pack because although it's a little more expensive, the cost per page will be cheaper so it's much more economical! https://www.tonergiant.co.uk/product/HP-201X-High-Capacity-Toner-Value-Pack-B-C-M-Y-CF400XPACK-86330/ If you need any more help, let me know! thanks, Stu.
4
Toner Cartridges for the HP Colour LaserJet Pro M252dw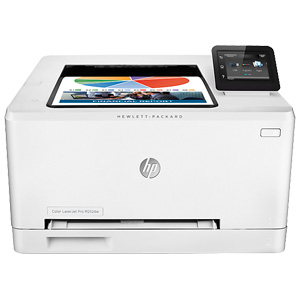 We stock the full range of HP CF400X, CF400A and 401-403A and X toners for your HP Colour LaserJet Pro M252dw printer and offer free next business day delivery on everything which means you can be up and printing again in no time at all. We have plenty of options for you to choose from such as HP Twin packs, 3 colour packs and 4 colour packs, plus if you're looking for a cheaper price, we also offer compatible alternatives to each of the available HP cartridges meaning you can shop smart and save yourself a bundle!
HP Colour LaserJet Pro M252dw Printer
The HP Colour M252DW is a very compact printer but that doesn't mean that it's capabilities are limited. It can produce the most professional looking prints out at an impressive 18 pages per minute. Not only that, it offers WIFI connectivity, automatic printing on both sides of the paper and network connectivity for those working from a traditional office. The LaserJet Pro M252DW is built for 1 to 5 users and for those printing up to 30,000 pages per month.
If you're security conscious, this printer also offers a range of security features that help you to safeguard sensitive information.
How long should my HP Colour LaserJet Pro M252dw toners last?
The length of time that your HP 201A and 201X toners last really depends on the job at hand. For example more toner will be spent printing images or bold colours compared to prining standard text documents so the following information will help you to determine how long they will last.
Looking at the table below, select the toner cartridge you'd like to compare from the top row and then choose the average number of pages you print per day from the left column to guestimate how long your toner will last.
*Please note that this information is based on the standard guidelines for print capacity which is 5% or toner coverage on an A4 page. Therefore, if you are printing images or large blocks of colour, photographs or shading, your toner will run out much quicker.
How long will your HP 201 toner cartridges last?
The following table shows you how long your cartridge will last based on how many pages you print each day*
Pages Printed
CF400A
Black
CF401A
Cyan
CF400X
High Capacity
30 Pages
50 days
47 days
93 days
60 Pages
25 days
23 days
47 days
100 Pages
15 days
14 days
28 days
120 Pages
13 days
12 days
28 days
200 Pages
8 days
7 days
14 days