Canon PIXMA MG6851 Ink Cartridges
We sell Canon Pixma MG6851 inks in all available varieties and pack sizes from 4 colour ink packs to packs including an extra black cartridge for those who print a lot of text documents. Take your pick from standard inks or XL high capacity ink if you have a large print job at hand and get double the number of prints for slightly more cost. What's more we offer free super fast next business day shipping on all Canon printer cartridges so shop with us today for the best deals around!
A.
Hi, you can find the price for the full set on the following page here: https://www.tonergiant.co.uk/product/Canon-PGI-570XL-CLI-571XL-High-Cap-Ink-Cartridge-PGI570XLCLI571XLPACK-87162/
1
Ink Cartridges for the Canon PIXMA MG6851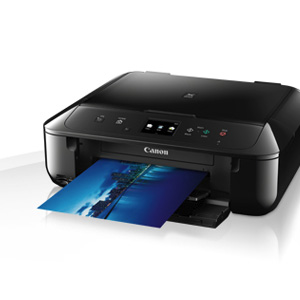 Canon's MG6851 printer has a wide selection of ink cartridges available in the CLI-571 and PGI-570 range. Each of these ranges are also available in extra large sizes so that you can spend more time printing and less time searching for a new set of inks online. One of the major selling points that makes this printer so popular is that you can easily replace one cartridge at a time without the need to replace the full set if one cartridge is empty like older models.
Canon PIXMA MG6851 Inkjet Printer
With a large touch screen, cloud printing and wifi capabilities, its easy to see why the MG6851 printer is one of the most popular and easy to use inkjet machines around. You can print directly from a mobile or tablet and in some cases even print directly from your camera without the need to connect with clunky wires. It's also worth noting that with 5 different colours of ink cartridge, it's capable of printing a resolution of 4800dpi so it's perfect for photographs. If you need help or have a printer problem, you can find
support for your Pixma MG6851 on the Canon website.
If you own this printer you're sure to enjoy Canon's PIXMA Cloud Link that allows you to print directly from Google Drive, Instagram or Facebook in a matter of seconds.
How long should my Canon PIXMA MG6851 printer ink cartridges last?
With 5 inkjet cartridges to replace each time they run out I'm sure you'd like to know just how long those inks will last. Depending on exactly what you are printing your page output could be very different. We created a handy number of prints tool to give you the answer and we've added a chart below with the results.
Take a look below, pick which ink you'd like to compare from the top and then select the average number of pages you print per day to determine how long your Canon CLI-571 and PGI-570 inks will last.
*Please note that this information is based on the standard guidelines for print capacity which is 5% or toner coverage on an A4 page. Therefore, if you are printing images or large blocks of colour, photographs or shading, your toner will run out much quicker.
How long will your HP 410 toner cartridges last?
The following table shows you how long your cartridge will last based on how many pages you print each day*
Pages Printed
PGI-570
Black
CLI-571
Standard
CLI-571XL
High Capacity
10 Pages
30 days
37.6 days
89.5 days
20 Pages
15 days
18.8 days
44.8 days
40 Pages
7.5 days
15.3 days
22.4 days
80 Pages
3.75 days
9.4 days
11.2 days
160 Pages
1.9 days
4.7 days
5.6 days