Ricoh Aficio SP 204SF Toner Cartridges
The Ricoh Aficio SP 204SF is an all-in-one printer offering exceptional quality printing, copying, fax and scanning - perfect for any small business. Our Ricoh Aficio SP 204SF toner cartridges are guaranteed to work in your Ricoh Aficio SP 204SF printer and are available in our compatible range and the branded manufacturerís range. Select a product from our range of high quality toner cartridges below and enjoy brilliant printing thereafter.
Q.
I have the lazer printer Ricoh SP 204 SF. Can you please advise what black toner cartridge for it? many thanks, Anh
A.
Hi, the black cartridges you are looking for are on this page. There are two different capacity cartridges and each have the following reference. the first is reference 407254 and is 2600 pages and the second reference is 407255 and prints 1500 pages.
1
Toner Cartridges for the Ricoh Aficio SP 204SF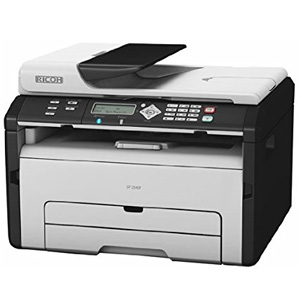 Toner giant stocks both compatible and branded toner cartridges for your Ricoh Aficio SP 204SF. Our compatible cartridges come with a three-year guarantee, so if you arenít 100% satisfied with them we will give you your money back. Our range of cheap compatible Ricoh cartridges have been tested extensively with the machine and are guaranteed to allow you to continue printing high quality text documents. If your printer does appear to underperform due to our compatible ink cartridges then we will either fix or replace it, while covering all the costs.
Advantages & Features of the Ricoh Aficio SP 204SF
The Ricoh Aficio SP 204SF is an all-in-one printer ideal for use in an office space, as it is able to keep up with high levels of printing throughout the working day. It can produce 22 pages per minute and can be connected to via PC and USB. The deviceís 3-second Super G3 fax transmission allows you to make contact with clients outside the business with ease, while a short warm up time and the ability to print within 10 seconds ensures you are never held back with this printer. This is why itís so important you pick up only the highest quality replacement toner cartridges and we offer these at brilliant prices.
How long will the toner cartridges last?
Toner Giant stocks a regular compatible black toner cartridge that will print you up to 2,600 pages while Ricohís original toner cartridges offer the option for either normal or high capacity which allows 1,500 pages or 2,600. This means you can enjoy high quality printing over a long period of time, reducing the need to replace cartridges quickly and offering exceptional value for money. If you have any queries relating to these ink cartridges donít hesitate to get in touch with one of our knowledgeable team members, via our live chat service or on the phone.