HP Officejet Pro 8610 Ink Cartridges
The HP Officejet Pro is a sizeable printer with the all-in-one ability to print, copy, scan and fax, with speeds of up to 19 pages per minute. For excellent performance from your HP printer you'll need to buy either some original ink cartridges from HP or alternatively TonerGiant's great value compatible ink cartridges. The compatible cartridges are the best quality and come with a three-year no risk guarantee to cover any faults, just in case.
Q.
hi , I have tried compatible ink before on my officejet pro 8610 but it does not let me print and advises that I buy HP official brand , they are however much more expensive , what can I do?
A.
Hi David, thanks for your question. This is a feature as you mentioned was introduced by HP when the printer gets an update however you can switch the feature off. It's called 'cartridge protection' and it can be disabled within the printer settings menu or if you have an internet connected printer, firstly find the printers i.p address from the menu on the printer in the connection settings area, then type the ip address into your web browser. On the resulting page click the settings tab and then tick 'disable cartridge protection'.
Q.
Hi. I've recently had my HP OfficeJet Pro Reject some none HP brand cartridges. Can you please confirm that this will not happen with Toner giant own brand cartridges, and if it does I can get my money back? Thanks
A.
Hi there, of course we guarantee that you won't have any issues and on the off chance that you do we will definitely take them back for you and refund. Here is an article about what causes a HP printer to reject cartridges and what to do: https://www.tonergiant.co.uk/blog/2017/02/how-to-fix-hp-cartridges-locked-to-another-printer/
2
Ink Cartridges for the HP Officejet Pro 8610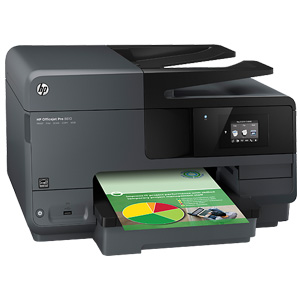 We've got you covered, if you buy our compatible ink cartridges we promise that your standard printer warranty will not be invalidated by using them. Just in case, if anything were to go wrong with your printer due to our cartridges, we'll arrange for it to be fixed and if it can't be fixed then we will replace it for a brand new one. We stock black ink cartridges, cyan, yellow and magenta and also package offers too so if you were looking for HP's original ink cartridges then you've come to the right place – you won't find them cheaper anywhere else.
Advantages & Features of the HP Officejet Pro 8610 Printer
You'll be able to print high-quality professional documents with your HP Officejet Pro 8610 printer. The wireless technology means that you can print from your smartphone, tablet or notebook on the go with the HP ePrint app. The printer is capable of printing crisp and vibrant double–sided flyers, borderless photos and other marketing materials as well as any regular documents you may need. You can also scan documents straight to email, network folders and the Cloud.
How long will the HP Officejet Pro 8610 Ink last?
TonerGiant's compatible ink cartridges come in an assortment of specifications and offer great value for money. You can either buy a compatible ink cartridge multipack that includes black, cyan, magenta and yellow. If you're printing a lot of documents you may want to consider buying the compatible high yield black ink cartridge that can print up to 2,300 pages.