HP Officejet Pro 8600 Plus Ink Cartridges
The HP Officejet Pro 8600 Plus is a large all-in-one printer that is suitable for use at home and in offices, and particularly good for printing professional quality photographs. To ensure maximum output, productivity and performance, it's important to use the correct ink, toner and cartridges - the following cartridges are all guaranteed to work in the HP Officejet Pro 8600 Plus printer. Take a look at our selection of cheap printer cartridges and buy with confidence.
Q.
I am residing and lecturing at the University of Cape Coast in Ghana. How do I pay with my Ghanaiann Credit/Debit Card.Best wishes,Prof Emmanuel K. essel
A.
Hi Professor Essel, unfortunately we only ship our orders throughout the united kingdom and so we won't be able to ship to you in Cape Coast Ghana. I'm sorry we couldn't accommodate your order and I hope you have success elsewhere.
Q.
I've been printing with my HP 950XL Black but I definitely didn't get 2300 pages from it. Can I get a refund?
A.
Hi there, thank you for getting in touch with the team. The 2300 page yield for the HP 950XL ink cartridge is based on a standard ink coverage on an A4 sheet of 5%. This means that each page that you printed would need to be no more than 5 short paragraphs of text to meet the full 2300 page yield. This is quite frustrating for customers as we usually do print more than 5% coverage on a page but this information comes from the standardisation authority and the manufacturer to normalise the data (as everyone prints different things). If you still feel you have only printed at 5%, we can take your cartridge back and test it for you and we'd be happy to process a refund if a fault has indeed occurred with your ink cartridge. You can call us on 0845 365 3605.
Q.
What do you get in the value pack? Im looking for hp 8600 ink but it looks like paper.
A.
Hi there, thanks for asking about hp 8600 ink value packs. It does look like a ream of paper and actually you receive the cyan, magenta and yellow 951xl ink cartridges and a pack of photo paper in one complete packet so that you don't need to purchase the paper separately. If you have any extra questions please let me know!
Q.
I need HP officejet pro 8600 ink but yours says 8600 Plus, is it the same?
A.
Hi, yes they are exactly the same printer other than some minor functionality changes on the 8600 plus version but overall they do take exactly the same range of inks.
Q.
Hi I am not a heavy printer user and I am concerned that the replacement inks for the HP8600 plus might clog the printer head more than the original ink would.Your thoughts please?
A.
Hi, thanks for your question I can understand your concerns. We manufacture the best quality compatibles possible as it doesn't make sense for us to sell products to our customers that are sub par and cause frustration or issues. So in the first instance, our cartridges are some of the highest quality you can buy in the UK. Whilst I can't promise that the print head would never get clogged at some point in the future we do offer a 3 year guarantee that covers your printer as well. So if any issues are caused by using our inks, we'll fix or replace your printer for you. I have only known that to happen once in the 10 years I've worked here and it was many years ago when the inks were manufactured by another company that we used. One thing I would suggest is that if your printer is still in warranty with HP, then continue to use HP inks, because if you do have a problem with a printer and you are using compatibles, they may tell you even if it wasn't the case that it was the fault of the compatibles and they won't honor a warranty. Saying that, if you trust what I'm saying, we would fix your printer or replace it so whilst HP might be funny about it, we wouldn't be! Hopefully that gives you a little more confidence but please let me know if you have any more questions.
5
Ink Cartridges for the HP Officejet Pro 8600 Plus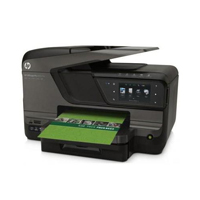 Toner Giant has a good selection of toner for the HP Officejet Pro 8600, including some of the cheapest ink cartridges available in the UK and other relatively cheap printer cartridges. We believe we offer some of the best price ink cartridges around. As well as official HP printer cartridges we also provide Toner Giant compatible ink cartridges which fit with this printer. All our cartridges and other products come with a three year guarantee, free next day working delivery and a 120% price promise.
Advantages & Features
The HP Officejet Pro 8600 Plus is an excellent all-round inkjet printer that can print, scan and copy. It has a wireless connection, enabling users to print remotely but also has sockets for USB and Ethernet connections too if users prefer that option. It's suitable for home use though it is quite a large model so it would be perfect to be permanently positioned on a desk - it has indented handles if you need to move it but is not intended as a portable printer. It can comfortably handle high volume tasks; with a 250 sheet paper tray and a 25 sheet optional extra tray, it has an output of up to 25,000 pages a month. It has a print speed of up to 35 pages per minute - both black and colour - and a scan resolution of up to 48000 dpi.
How long will the cartridges last?
The HP Officejet Pro 8600 takes four separate cartridges. These can be purchased individually in each of those colours - black, cyan, magenta, yellow - or in the form of one of our multipacks, which can give you a price saving. Our printer cartridge prices are competitive and our compatible multipack - product code REHP950951XLP - provides great value. These are cheaper cartridges than the HP products but work just as well and give a superb high yield performance.