Brother HL-5450DN Toner Cartridges
For those requiring large volumes of document printing in a small office, the Brother HL-5450DN is the right device for the job. A high spec printer such as this one deserves the very best when it comes to replacing its toner cartridges after months of regular printing. TonerGiant aims to offer the best value toner cartridges on the market, stocking a range of affordable but no less high quality compatible toner cartridges alongside Brotherís original products. We also have drum units in stock too. Take a look at what is on offer below and buy with confidence due to our 100% satisfaction guarantee on our compatible range.
Q.
we have some Brother HL 5450 s and having problems using compatible toners. Do you guarantee yours to work in the HL 5450 ?
A.
Hi, yes of course we do guarantee our compatible inks and toners for 3 years from the purchase date. If you are having trouble with any you have purchased from us it's always best to give us a call and we can see if we can fix the issue over the telephone and if not we will arrange for a replacement or full refund. You can call us on 0845 365 3605.
Q.
I am looking for an ink cartridge that is compatible with the Brother HL-5450DN. But cannot seem to find one - please could you advise?
A.
Hi, the Brother HL-5450DN printer is a laser printer that takes toner so there aren't actually any ink cartridges available for it. If you'd like to give us a call on 0845 365 3605 we ca try and talk you through which are the correct cartridges for your printer model.
Q.
how to add voucher code
A.
Hi, if you have a voucher code the redemption box can be found on the basket page of the website. To get there, click the checkout button in the top right of the screen.
3
Toner Cartridges for the Brother HL-5450DN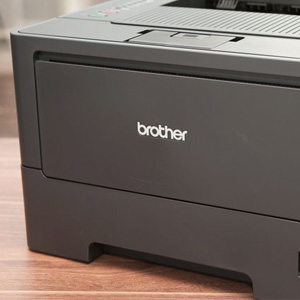 This mono laser printer only takes black toner cartridges, which if purchased from our website are guaranteed to offer the crispest, boldest text documents for everyday document printing. For those looking for great value, opt for a high capacity toner cartridge which offers a greater page yield and therefore a longer period of time before you need to purchase refills. We stock a variety of high capacity cartridges, in both our compatible and Brotherís original range right here on the site.
Advantages & Features of the Brother HL-5450DN Printer
This workhorse of a printer offers both low running costs and high speed printing, which means it is able to keep up with the busiest of offices. The device offers mobile printing technologies, which mean many PCs and laptops can access and print from this machine without the need for wires Ė you can simply connect via Google Cloud and Airprint. The Brother HL-5450DN features a 250-sheet input tray, and has the ability to print 40ppm. When it comes to cartridges we recommend product code RETN3380 for high capacity printing of up to 8,000 pages and RETN3330 for standard.
How long will the Brother HL-5450DN toner last?
The Brother HL-5450DN uses toner cartridges, so you can enjoy a high rate of pages over time. However, opting for a high capacity toner cartridge will ensure you are able to print of up to 8,000 pages and the standard cartridge also prints 3,000 - our drum units also offer a duty cycle of 30,000 pages. Order your cartridges before 5.30pm today and receive them tomorrow with our free, next day delivery service.