Kodak EasyShare 5200 Ink Cartridges
The Kodak EasyShare 5200 is one of the most compact but highest quality photo printers available on the market, ideal for those looking to print off family snaps. Here at TonerGiant, we understand that such a high quality printer requires replacement ink cartridges of the same calibre and we offer both budget and branded varieties.
Be the first to ask a question about these products. Click 'Ask a Question' above to submit your query and we will answer it as soon as possible.
0
Ink Cartridges for the Kodak EasyShare 5200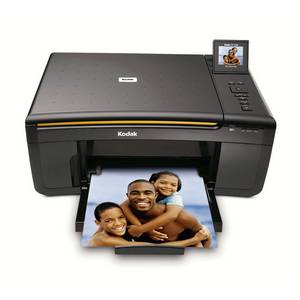 The products below are guaranteed to work with your Kodak Easyshare 5200, we offer both a compatible range and branded Kodak varieties of ink cartridges to suit all budgets. Our compatible range does not compromise on quality, with clear images and sharp, defined text a guarantee when printing with these. They are also easy to install, making the transition from old to new a breeze. 120% price promise means that if you find your Kodak cartridges cheaper elsewhere, within seven days after purchase, then we will refund you 100% of the difference, plus 20%. Our cheap ink cartridges for the Kodak Easyshare 5200 are available in single and multipack varieties, ideal if you're stocking up or if you just need a replacement for one colour.
Advantages & Features of the Kodak EasyShare 5200
This printer offers high quality text and photo printing as well as a scanner and copier, its small size makes it a great choice for home use or even for those running a small business with limited space. Memory card formats are also available and there is the option to connect to the printer via Bluetooth, however the printer does not support wireless connectivity so its wireless capabilities are limited somewhat. However, most purchase this device for its outstanding photographic image output as well as its ability to print on a variety of paper – from iron on transfers to transparent sheets.
How long will the ink cartridges last?
Ink cartridges in your Kodak Easyshare 5200 model offer a duty cycle of 425 pages for black ink and 420 for colour ink, therefore the amount of photographs and text printed will determine how long you can enjoy your cartridges. However, when they're used up simply head back to the site and take advantage of our free next day delivery service! And if you discover your cartridges are not needed, they can be returned (unopened) without incurring any restocking charges.