HP Officejet Pro 8600 Ink Cartridges
We have a great range of HP ink cartridges available for the HP OfficeJet Pro 8600 printer including single inks, multi-packs and OfficeJet 8600 value packs. We also sell a great range of cost saving compatible ink cartridges which are a great choice if you're looking for a reduced spend. Take a look below and order today! We offer Free shipping on all HP Officejet 8600 inks and ink multi-packs listed on the page below and all are guaranteed to work in your printer.
Be the first to ask a question about these products. Click 'Ask a Question' above to submit your query and we will answer it as soon as possible.
0
Ink Cartridges for the HP Officejet Pro 8600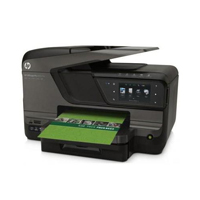 HP's OfficeJet pro range of printers were designed to compete with laser printers rather than other inkjet printers in the market and the OfficeJet Pro 8600 is no exception. If you purchased your printer purely for home use or light work then you may be surprised at the cost of replacing your inkjet cartridges which can set you back anything from around £35 to £90 for a full set, however if you bought this printer instead of a laser printer and you have a heavy print requirement then I'm sure you weren't disappointed by it's quality of print, speed and all round functionality.
When the time comes and you do need to replace your empty ink cartridges, you will need one of each colour cartridge however with the OfficeJet Pro 8600 e All in one, you shoud be able to comfortably and efficiently print up to a whopping 25,000 a month and each XL cartridge can print up to between 1500 pages for colour cartridges and 2500 pages for the Black XL ink.
If you do print very frequently then it makes great sense to opt for the XL cartridges and you'll save money in the long run or another option that we do provide is a choice of high quality and guaranteed compatible ink cartridges that come in at just over half the price of their Original HP counterparts.
HP Pro 8600 troubleshooting
Common questions often come our way about issues that customers have experienced and seeking advice on how to troubleshoot those issues. Whilst we aren't printer technicians ourselves we're more than happy to help and advise where possible. You may have lost your printer manual and be looking for somewhere to find one or you may be having trouble with a windows update and are looking for the firmware or drivers.The best place to get an answer to any of your questions or to download user guides is on the
HP Officejet Pro 8600 support page.
How long should my HP 8600 ink cartridges last?
You can choose from a number of different ink cartridges for your Officejet Pro printer and the key difference between each option is that the XL cartridges print almost double the amount to the standard cartridges.
Here's a handy table to show you how long your inks will last based on what you print daily. All you have to do is pick which cartridge you have purchased from the top row, then pick how many pages you print each day from the left column and scroll across to see how many days your cartridge should last.
*Please note that this information is based on the standard guidelines for print capacity which is 5% or toner coverage on an A4 page. Therefore, if you are printing images or large blocks of shading, your cartridge will run out faster.
How long will your cartridge last?
The following table shows you how long your cartridge will last based on how many pages you print each day*
Pages Printed
HP 950XL Black
HP 951XL Colour
HP 951 Colour
50 Pages
46 days
30 days
14 days
100 Pages
23 days
15 days
7 days
250 Pages
9.2 days
6 days
2.8 days
500 Pages
4.6 days
3 days
1.4 days
1000 Pages
2.3 days
1.5 days
0.7 days