HP OfficeJet 6500a Plus Ink Cartridges
The HP OfficeJet 6500A e-All-in-One Web Enabled Printer is a technologically advanced printer that uses wireless technology to print from any electronic device; the printer also photocopies and scans documents. Here at Toner Giant, we stock a range of compatible and original affordable ink cartridges to enable your HP OfficeJet 6500A printer to keep performing to the best of its ability. Check out our range below and have your selection delivered the next day for free, if ordering before 5.30pm.
Be the first to ask a question about these products. Click 'Ask a Question' above to submit your query and we will answer it as soon as possible.
0
Ink Cartridges for the HP OfficeJet 6500a Plus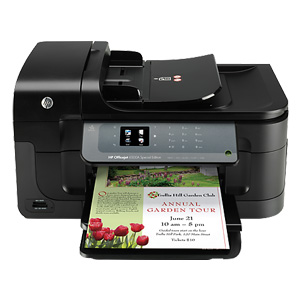 TonerGiant stocks both branded and compatible ink cartridges for the HP Officejet 6500A Plus e-All-In-One printer. Both cartridges are recommended and deliver the same capacity of pages printed, however, the TonerGiant ink cartridges are better value for money and also come with a three-year guarantee. Available in both multipack and single options, youíll discover everything you need while browsing the TonerGiant website for cheap replacement cartridges.
Advantages & Features of the HP OfficeJet 6500a e-All-In-One
Despite being a technical printer, the HP OfficeJet 6500A printer is easy to set up and use from your home or even in the office. Once the printer has connected to your laptop, PC, smartphone or tablet it will remain connected so that you can print wherever you are in your home, on demand. The HP OfficeJet 6500A printer has a touchscreen display screen, which offers the option to print double-sided or single-sided. If you are looking for a high quality and exceptionally easy to use printer then look no further than this device.
How long will the inks last?
The coloured cartridges on offer including magenta, cyan and yellow will last you for 700 pages, while the black cartridges can last for up to 1,200 pages. However, you can save both money and time by investing in a multipack that includes black, magenta, cyan and yellow. Opt for a high yield cartridge replacement for exceptional printing and ink that lasts longer. Itís also worth noting that the cartridges use ink that is now more environmentally friendly due to advanced scientific research! If you have any queries about our range of cheap cartridges donít hesitate to get in touch, via phone, email or live chat.