HP LaserJet Pro P1102w Toner Cartridges
For optimum performance from your HP LaserJet Pro P1102w you should opt for one of the available original or compatible toner cartridges below. Our range of toner cartridges are guaranteed to work in the HP LaserJet Pro P1102w printer. The correct toner cartridge ensures your device continues to run at its highest performance level and as well as toner cartridges. Browse our range of high quality but cheap toner cartridges below and take advantage of our free next day delivery service, if you order before 5.30pm Mondays to Fridays (excluding Bank Holidays).
Q.
THERE ARE 3 ORANGE GRIPS ON MY NEW TONER DO I PULL ALL 3 OFF?
A.
Hi Dennis, yes that's correct. Remove all the orange tabs or covers from the HP 85A toner cartridge before putting in to your HP 1102W printer.
Q.
Can you tell me which toner is suitable for HP LASERJET P1102W IN BLACK AND THE COST PLEASE
A.
Hi Faye, thanks for your question. The toner that you need is the HP 85A Black toner with reference CE285A. There are also options to purchase a 2 pack of toners and a compatible version of the toner. You can find the single toner here: https://www.tonergiant.co.uk/product/HP-85A-Black-Toner-Cartridge-CE285A-CE285A-4810/
2
Toner Cartridges for the HP LaserJet Pro P1102w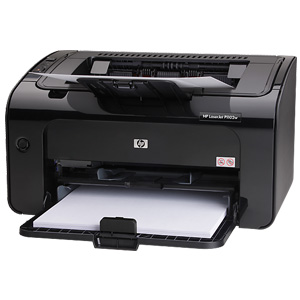 We stock both original and compatible toner cartridges to suit your HP LaserJet Pro P1102w and Toner Giant's compatible HP CE285A toner cartridge offers best value for money. Our compatible toner cartridges have been tested to ensure they offer the same length of life and quality of print as the manufacturer's cartridges. The cartridges we offer adapt to the printer, using precise toner placement to deliver continuous high quality output throughout the full life of the cartridge, which is approximately 1,600 pages.
Advantages & Features of the HP LaserJet Pro P1102w
The HP LaserJet Pro P1102w is an extremely efficient Wi-Fi printer. It has a 150-sheet main input area, plus a fold-out front panel with interchangeable width guides. It also features HP's FastRes 600 print technology, which offers crisp lettering on important documents, perfect for those using this device as a home business printer. On top of this, a 19 page per minute print speed means you can print large documents off with ease and in good time, another reason why replacing your toner cartridges with high quality ones is so important.
How long will the toners last?
Both our own brand of toner cartridges and HP's original toner cartridges offer a duty cycle of 1,600 pages. We're so confident in our own brand of compatible toners that we offer a three-year no risk guarantee. We want you to be totally satisfied with your replacement toner cartridge purchase or we'll give you your money back.