HP Colour LaserJet Pro M452dn Toner Cartridges
If you're looking for HP M452dn toners in the HP 410 range, you'll find everything you need listed below from standard and high capacity cartridges to multi-packs and full colour sets. Those intereseted in a cheap alternative offering a big cost saving, we even have a great range of compatible toners that offer proven quality and a full 3 year guarantee. All toner cartridges listed below come with free, fast next-day courier delivery.
Q.
How come there are so many options to choose from on this page? I just want a coloured toner.
A.
Hi Jack, it can be a little confusing can't it. We sell all the available toners including packs for the HP M452dn printer. We list these in the order of black & colour multi packs first (either as a full set or individually such as dual pack black) and then we list the individual cartridges down from black, cyan, magenta and yellow. Our cheaper compatible options are also listed on the page and these are in a TonerGiant box. If you can let me know which colours you need, I'd be happy to give you a direct link to the product page.
Q.
Whats the difference between the 201X and the 210A toners??
A.
Hi there, I'm assuming you mean HP 410A and 410X toner cartridges. The difference between the two (other than price) is that the 'X' toners can print up to twice as many pages and the 'A' toners but are not twice as expensive! So for a bit more cost you can twice as many prints and it means that your saving yourself some money in the process and your toner won't run out as quickly.
Q.
How long will the Black cartridge last? I have a big print job I need to do.
A.
Hi there are 3 options available, you can choose from the CF410A which can print up to 2300 pages, the HP CF410X that can print up to 6500 pages or the dual pack CF410XD which contains 2 of the CF410X toners. How long they will last really depends on how much you print per day and what it is you are printing. If you are printing images for example then the coverage will be higher and toner will run out quicker. You can calculate approximately how long it will last using our tool on the following page here: https://www.tonergiant.co.uk/blog/2014/08/how-many-pages-will-my-cartridge-print-before-it-runs-out/ or by scrolling to the bottom of the page and viewing the table below.
3
Toner Cartridges for the HP Colour LaserJet Pro M452dn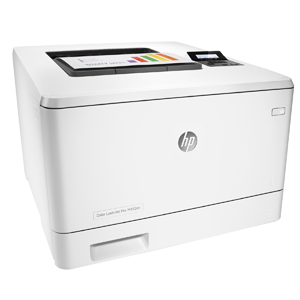 There is a great range of toner cartridges avaialable for the HP Colour LaserJet Pro M452dn printer. Each toner can be purchased in either the HP 410A standard toner cartridge that can print up to 2300 pages or for those with larger print jobs, the HP 410X range of high capacity toners that can print up to 5000 pages. Each of these toner ranges are also available in one multi-pack offering a discount compared to purchasing individually. We also offer a full range of compatible toners that are up to 40% cheaper than the original HP toners.
HP Colour LaserJet Pro M452dn Printer
When you first purchase your HP M452dn laser printer you will also receive a starter set of toners that can print up to 1200 pages however as the printer is intended for those of us with a medium to high use rate and a monthly recommended print volume of up to 4000 pages, you may find that you will need to replace those toners very quickly. The HP 452dn printer is ideal for teams of up to 10 people and the automatic duplex function will help to save on paper wastage by allowing you to easily and automatically print on both sides of the page.
Another huge positive is it's quick print speeds. You'll find that you're able to print any black or colour page within a very speedy 3 seconds per page with minimal warm up time due to HP's 'instant on' printer technology. In fact you should be able to print your very first page as quickly as 9 seconds from clicking the power button.
How long should my HP Colour LaserJet M452dn toner cartridges last?
Depending on which capacity toner cartridge you opt for, and if the printer is being used efficiently, the toners should last you anything from a month and up to a few months. Compatible toner cartridges have the same print capacity of the original cartridges so we'll compare the lastibility of a high capacity black, standard capacity black and high capacity colour toner.
Take a look at the chart on this page, pick which toner you'd like to compare from the top and then select the average number of pages you print per day to determine how long your HP 410 toners will last.
*Please note that this information is based on the standard guidelines for print capacity which is 5% or toner coverage on an A4 page. Therefore, if you are printing images or large blocks of colour, photographs or shading, your toner will run out much quicker.
How long will your HP 410 toner cartridges last?
The following table shows you how long your cartridge will last based on how many pages you print each day*
Pages Printed
CF410X
High Capacity
CF410A
Standard
CF413X
Cyan
50 Pages
130 days
46 days
100 days
100 Pages
65 days
23 days
50 days
150 Pages
43.3 days
15.3 days
33.3 days
200 Pages
32.5 days
11.5 days
25 days
300 Pages
21.6 days
7.6 days
16.6 days