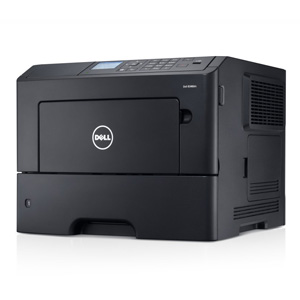 TonerGiant stocks both compatible and branded toner cartridges for your Dell B2360DN printer. We do stock Dell branded toner cartridges, however our compatible range is considered to be better value for money with the same exceptional high quality. Available in both regular and high capacity options, you can pick these up for nearly half the price of Dell branded toner cartridges. As well as cheap toner cartridges we also stock Dellís use & return image drum, which is part of Dellís environmentally friendly scheme where you pay less, as long as you return the empty cartridge to them for recycling.
Advantages & Features of the Dell B2360DN
The Dell B2360DN printer is excellent for its paper handling capabilities. It has a total capacity of 300 sheets of paper and contains a duplexer for two-sided printing. This printer also offers wireless printing, as well as a USB option that you can connect to any wireless device including mobiles, laptops, Ipads and PCs. This is an efficient and energy saving printer that is easy to use and prints with speed and high quality. Make sure you purchase a high quality toner cartridge from our range, to keep your Dell B2360DN in its best condition.
How long will the toner cartridges last?
Toner Giant stock a regular compatible black toner cartridge that will print you up to 2,500 pages and also a high-capacity black toner cartridge that will print around 8,500 pages. This means you can enjoy superb quality printing for a longer period of time. Dellís original toner cartridges also offer the option for either normal or high capacity. These toner cartridges are guaranteed to keep your device in good working order, our compatible range even comes with a three year, no risk guarantee.