Canon PIXMA MG5750 Ink Cartridges
This compact little printer comes with all the functions to print, scan and copy to exceptional quality. Canon often produces printers that can print photography to a high quality and at great value for money so you can rest assured that the quality of this printer is high. For the best performance from your Canon printer, make sure you use compatible Canon Pixma MG5750 ink cartridges.
Q.
Does switching off and on again during the day tend to use more ink that leaving it on all day.Mg5750
A.
Hi Geoff, switching the printer off and on during the day should have no bearing on how much ink is used on an inkjet printer. Unlike laser printers, inkjet printers have no warm up process needed for the ink, as it's in a constant liquid form. The only effect it will have is the time it takes to start up which could take you a little longer to get going and finish your print job.
Q.
Ive replaced the ink cartridges but it refuses to print anything. It says there is no toner, does it require a separate toner thing?
A.
Hi there, if you have an inkjet printer that takes ink cartridges, the printer won't take toner cartridges. If you can give us a call on 0845 365 3605 and give us a little bit more information we'd be happy to help you through any issues you are experiencing.
Q.
I have purchased the incorrect ink cartridges on my last order and they do not fit my printer. Im not sure how Ive managed to do this as I would have entered the details of my printer on your website. Am I able to return the unopened inks for an exchange?
A.
Hi there, yes we can arrange for any unopened inks to be returned. I will forward your request on to the returns team and they will be in touch very shortly.
3
Ink Cartridges for the Canon PIXMA MG5750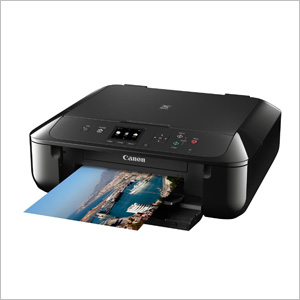 The Canon Pixma MG5750 ink cartridges come in individual colours, which means you only need to replace those that have run out, saving you money in the long term. Toner Giant stocks genuine Canon ink cartridges that are guaranteed to work with your printer. Thereís no use in shopping around elsewhere for the Canon Pixma MG5750 ink with TonerGiantís 120% price promise. We refuse to be beaten on price, but if by some miracle you find the ink cartridges cheaper somewhere else within seven days of your purchase, we will give you a full refund plus an extra 20% towards your next purchase.
Advantages & Features of the Canon PIXMA MG5750 Printer
The Canon Pixma MG5750 is a great all-round printer to have at home, connected via its USB port, Wi-Fi or through the accompanying app itís extremely user friendly. This printer also boasts impressive printing quality with a maximum resolution of 4800dpi so you know that your favourite photos will come out looking great.
How long will the Canon MG5750 ink cartridges last?
Canon gives you the option to buy regular or XL high capacity ink cartridges for your Canon Pixma MG5750 printer. If you are printing a lot of photography, you may be better off with the XL ink cartridges as they are going to last you for around 500 extra pages than the regular ink cartridges. The Canon Pixma MG5750 ink cartridges are included in our next working day delivery so order before 5:30pm Monday to Thursday if you need them tomorrow!