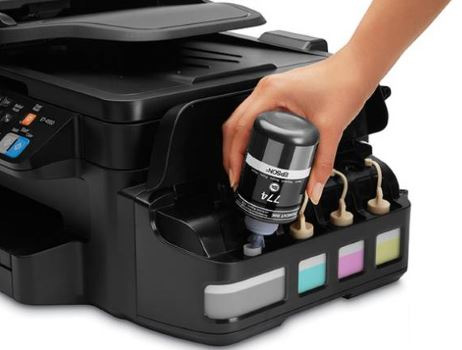 Updated 28/11/2017
Should you buy an Epson EcoTank printer?
If you've seen the Epson EcoTank range, then you'll know about the new type of inkjet printer that doesn't use regular ink cartridges but bottles of ink that are squeezed into a compartment on the printer.
In this post, I'm going to look at some common questions and help you to make your own decision on the question, is the Epson EcoTank worth it?
Here's what I'll go over:
What is Epson EcoTank / why developed?
Is it messy?
Watch out for / test prints…Craft Test Dummies
Range of products
Overall cost comparison to other brands of printer
Caution – page coverage!
Looking for Ecotank ink?
Before we start if you are looking for Epson EcoTank ink and accidentally stumbled upon our page that looks at the different versions and direct comparisons of EcoTank printer, you can find ink by clicking the button below:
Epson EcoTank Ink
What is an Epson EcoTank?
The EcoTank range of inkjet printers, developed by Printer Manufacturer Epson, were first introduced in 2015 and offered users who were frustrated by buying new printers and needing to purchase expensive ink cartridges shortly after (sometimes even more expensive than the printer), a printer that hold its ink in refillable tanks rather than replaceable ink cartridges.
This means that there is less waste when you must throw empty cartridges away or struggle to recycle them, you can print for longer without the need to buy new ink and ink bottles can be sold at a much cheaper price than equivalent inkjet cartridges.
All good so far? Yes, in theory this sounds fantastic and EcoTank printers have many positive features that benefit lots of users, but they aren't without their cons which we'll discuss later, and they don't suit every need so we'll try to help you identify whether it's the right choice for you and your circumstances.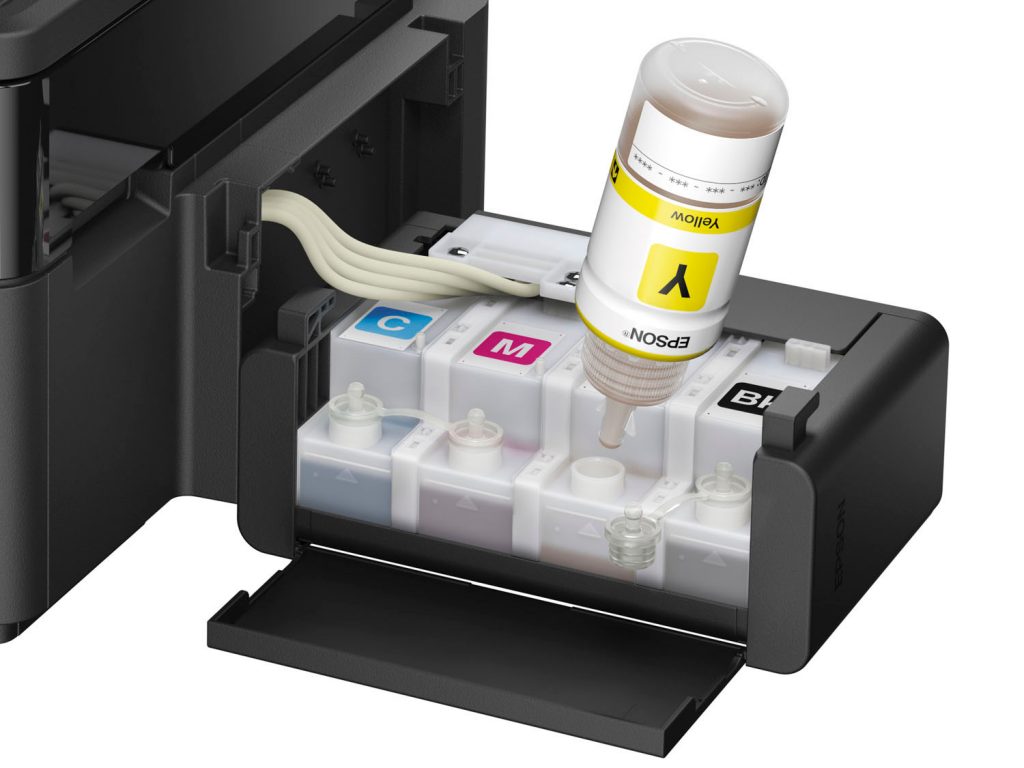 Why was it developed?
You might be wondering why the technology was developed, or more to the point, why was this not the standard for printers in the first place? And that's a great question.
If you ask a salesperson, or an Epson representative then I'm sure that the answer you'd get is that Epson wanted to help customers by removing the frustrations listed above and whilst that is largely true and a great way to disrupt the market for printers, there are a few other reasons too!
Printer manufacturers don't make much if any money selling printers, they make money selling printer cartridges. That's why printers are often cheap, but cartridges are often more expensive.
So, to combat that, customers frequently opt for compatible or remanufactured cartridges but this is not good for businesses like Epson or other manufacturers because if you aren't buying their inks, they aren't making any money. It's something all printer manufacturers have tried to combat for years.
This is another big reason the EcoTank was developed. The printers start at high prices and come packaged with 'up to 2 years of ink' so that they make money on the initial sale.
Also, the technology is likely patented which means it will be difficult or maybe even impossible to get compatible inks for an EcoTank.
Is an Epson EcoTank messy?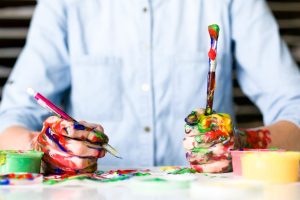 Owning an EcoTank printer means that you will need to pour or squirt ink into the chambers found on the right-hand side of the machine and that can be potentially messy. Epson's advice is to wear rubber gloves and place scrap paper under the tanks.
Make sure you wear gloves on both hands! Getting ink on your skin will prove difficult to clean. Saying this, it's not complex to refill the tanks so if you are careful and take your time. You won't spill anything!
Common Epson EcoTank Print Problems
A print test created on Youtube by Jenny Barnett Rohrs or Craft Test Dummies.com pointed out a common issue when printing photographs.
If you are intending to print photos on glossy paper (the best paper to use is Epson paper), then make sure that you select the correct paper type in the print window before you click print.
If you don't do that, and you print photos but choose standard paper in the print prompt for example, then your print out will easily smudge and leave black ink all over your hands.
You can watch the full video from Craft Test Dummies here:
Epson EcoTank 2017 Product Comparison
There are currently 5 available models of EcoTank printer in the UK including the ET-2600, ET-3600, ET-4500, ET-4550 and the A3 ET-14000. We'll be looking at the first 4 in the list and comparing them to standard inkjet printers from other brands.
| | | | | |
| --- | --- | --- | --- | --- |
| | | | | |
| Model | ET-2600 | ET-3600 – Click to view | ET-4500 – Click to View | ET-4550 |
| Black ink | 4500 | 6000 | 4500 | 6000 |
| Colour ink | 7500 | 6500 | 7500 | 6500 |
| RRP | £229.99 | £399.99 | £349.99 | £449.99 |
| Ink cost set | £33.96 | £38.46 | £33.96 | £38.46 |
| Ink cost each | £8.49 | £8.49 / £12.99 | £8.49 | £8.49 / £12.99 |
| Resolution | 5760 x 1440 | 4800 x 1200 | 5760 x 1440 | 4800 x 1200 |
| Use | Home / Office Desktop | Home / Office Desktop | Home / Office Desktop | Home / Office Desktop |
| PPM Black | 10 | 13.7 | 9.2 | 13.7 |
| PPM colour | 5 | 7.3 | 4.5 | 7.3 |
| Duplex? | Manual | Auto | Auto | Auto |
| Tray size | 100 Sheets | 150 Sheets | 150 sheets | 150 sheets |
| Connection | WIFI | WIFI / Ethernet | WIFI / Ethernet | WIFI / Ethernet |
| Included ink Black / Colour | 4000 / 6500 | 11000 / 11000 | 4000 / 6500 | 11000 / 11000 |
| Max paper size | A4 | A4 | A4 | A4 |
| Sku | C11CF46401 | C11CF73401CA | C11CE90401 | C11CE71404BY |
| Functions | Print / Copy / Scan | Print / Copy / Scan | Print / Copy / Scan / Fax | Print / Scan / Copy / Fax |
| Max monthly output | Approx. 270 pages | Approx. 450 pages | Approx. 270 pages | Approx. 450 pages |
| Compatibles? | N | N | N | N |
| Cost to run / year | £229.99 | £399.99 | £349.99 | £449.99 |
| Compatible cost to run | N/A | N/A | N/A | N/A |
| Cost / page | 0.004p | 0.006p | 0.004p | 0.006p |
Pro's
Here are a few of the things that I like about the EcoTank range:
Great print quality, especially with photos.
Scanners are wide and can fit large documents
Plenty of ink in the box when you purchase the printer
Environmentally friendly
Very low cost per page
Built in WIFI
Auto Duplex in the 3 higher priced models
Things to consider…
Here are a few things you should consider before buying an Epson EcoTank printer…
Initial price – EcoTank printers are initially more expensive because you are paying for the ink in advance.
It's unlikely you will ever be able to buy compatible ink, though Epson ink is relatively cheap.
They aren't the fastest printers so if that frustrates you, you may want to stay away.
There's a 20 – 25-minute ink charging period before printing.
You will need to run very regular ink maintenance / cleaning to prevent ink from drying up and stopping print-outs having lines across them.
Not ideal printers for high monthly print volumes so not great for offices that print frequently and lots.
Caution! Page coverage.
One big word of warning here…The EcoTank range is promoted as coming packaged with up to 2 years of ink. The Key word being 'up to'.
Standard ISO print coverage means an A4 piece of paper with 5% covered in ink which is equal to printing one standard page. That only looks like 5 paragraphs of text when the ink is spread out. If you print bold colours, blocks of shading, pictures or photos then the ink will run out much, much quicker.
You're more likely to print at 15% – 20%-page coverage so you're more likely to get 1 quarter the amount of prints. eg – 6 months, which is still pretty good!
Conclusion
Hopefully this has helped you to make a more informed decision. Think about what you need to print, how much you normally print per day or month and decide based on your own opinion.
We've also had some fantastic comments below from people who own or have previously owned Epson EcoTank printers. Some of that feedback is good and some not so good, but take a look and let us know what you think of the EcoTank if you own one, or let us know your general opinion!