Fast 3D Printing from HP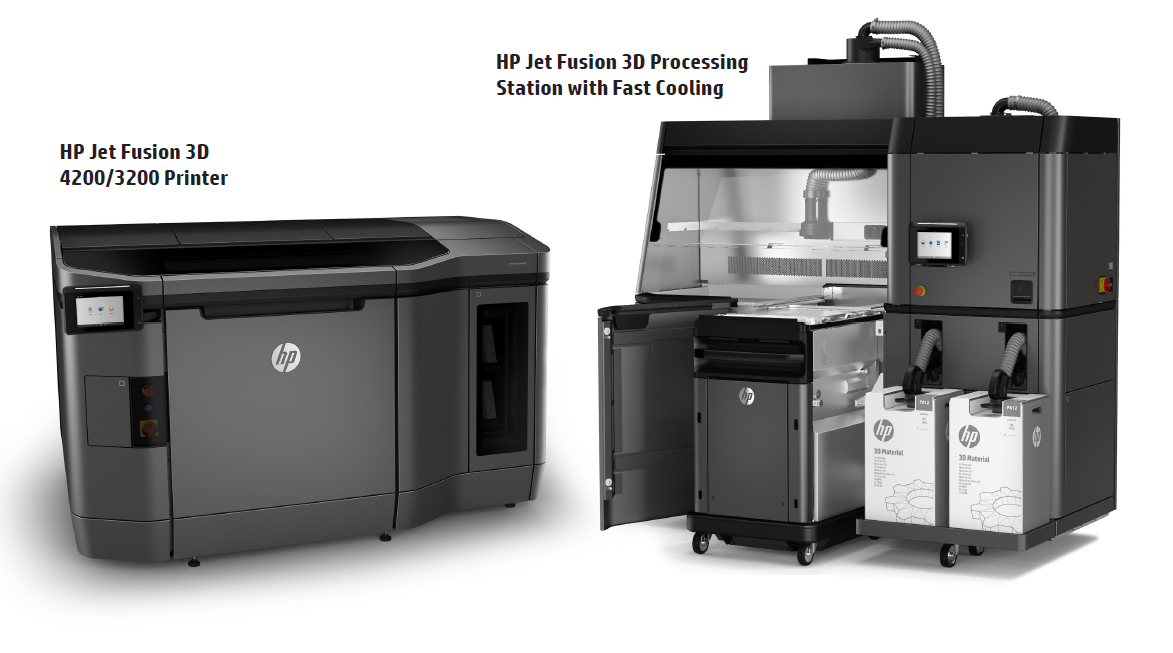 Since 3D printing came to the fore in the late 2000s, small, niche tech firms have dominated the industry — with brands like Stratasys and 3D Systems becoming household names (well, in the tech world at least) seemingly overnight. But what about the big hitters of the print world like Lexmark, Canon and Samsung? Where have they been while these young guns have set up shop and laid claim to this rapidly emerging industry?
Just when we were about to rule out the big brands in favour of these new, specialist manufacturers, HP sent shockwaves through the 3D printing industry with two production-grade 3D printers that could shake up the sector upon their release in late 2016 and early 2017.
Dubbed the Jet Fusion 3D 3200 and Jet Fusion 3D 4200 respectively, HP's newly unveiled machines have set a bold new precedent in Fast 3D printing. HP claim both printers offer speeds ten times faster than the current most powerful machines on the market, so they're bound to be a tantalising proposition for those keen to utilise Fast 3D printing for private or commercial means in the future.
But aside from speed, what makes HP's latest Fast 3D printers so exciting? Here, we explore the technology and features that make these machines such brilliant additions to the burgeoning 3D print market.
Jet Fusion 3D 3200 and 4200 — The Lowdown
Officially throwing down the gauntlet, HP plans to release two variants of its powerful new Fast 3D printing package over the next 12 months: the Jet Fusion 3D 3200 and the Jet Fusion 3D 4200. The 3200 is being touted as a super-fast printer for light commercial and private use, whilst the 4200 will be powerful enough for same-day manufacturing applications, or so HP claims.
Fused Deposition Modelling (FDM)
On paper, HP's new babies do sound mightily impressive. Both printers use fused deposition modelling (FDM) and selective laser sintering (SLS) to build highly intricate 3D creations — and all in a fraction of the time of current 3D printers. They're also the first printers of their kind to operate on an open software and materials platform, meaning they can print practically anything with few limitations.
The superior performance of these devices is all thanks to HP's innovative Multi Jet Fusion (MJF) technology, which, for the first time in the industry, produces prints on a voxel level (a voxel is the 3D equivalent of a 2D pixel). According to the firm, the platform can produce 340 million voxels per second, providing exceptional speed, accuracy and resolution across multiple print tasks.
Stephen Nigro, president of HP's 3D printing arm, said of MJF technology: "Our 3D printing platform is unique in its ability to address over 340 million voxels per second, versus one point at a time, giving our prototyping and manufacturing partners radically faster build speeds, functional parts and breakthrough economics."
If HP's press release is to be believed, the 4200 could seriously shake up the manufacturing sector. This powerful machine makes it possible to produce full-colour and incredibly intricate 3D products on a same-day, high volume basis — potentially paving the way for streamlined supply chains. Even the 3200, which is considerably cheaper than the 4200, can tackle big printing tasks on a small timescale, so both devices are guaranteed to prove popular with businesses.
Powerful Partnerships
As if to validate the power of its fast 3D print offering, HP has partnered with some serious corporate allies, including Nike, BMW, Johnson & Johnson and Siemens. All of these companies have dabbled in 3D printing for prototyping in the past, but now thanks to HP's big reveal, the technology is likely to become a much more integral part of their product design and development process.
Indeed, Nike, who in November announced that it plans to expand its use of 3D printers, could be on the way to developing a complete product range using HP's innovative new 3D machines. Creating tailor-made 3D printed shoes for sportsman has long been on Nike's radar, and with the arrival of HP's revolutionary new systems, the sportswear giant could well be on the way to making this a reality.
So What Does All this Cost?
If you were considering adding one of HP's new fast 3D printing marvels to your Christmas list, keep dreaming. Prices for the Jet 3D 3200 start at $130,000 (£92,000) while the Jet 3D 4200 is currently priced at a cool $155,000 (£110,000). Sure, this sounds eye wateringly expensive, but given the technology packed into each of these devices, we reckon it's a perfectly fair price.
To make it a little easier for you to save up in the hopes of one day buying a HP 3D printer, we offer low prices on a range of toner and ink cartridges — helping you save money on the cost of everyday 2D printing. Browse our complete product range, here, or call our team today on 0845 365 3605.