Around two years ago, Toner Giant set out to raise awareness of the detrimental impact used print cartridges have on the environment — publishing a series of shocking statistics which highlight the scale of the global problem. As part of this fact-finding mission we speculated that by 2015 the number of cartridges sent to landfill would reach a staggering 440 million a year — a horrifying figure given that each cartridges takes over 1,000 years to decompose.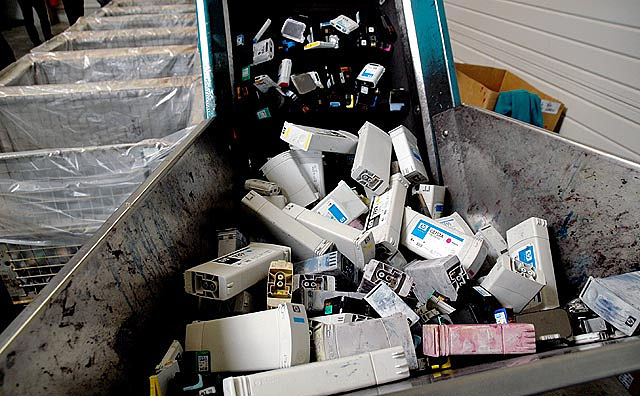 Now that we're coming to the of 2015, and with the number of cartridges incorrectly disposed of still rising at a rate of 12% year on year, we thought it prudent to reaffirm the importance of recycling your empty cartridges. So without meaning to sound at all preachy, here are 7 reasons you should remember to recycle those empty printer cartridges.
The Average Cartridge Can be Recycled 4-6 Times
  That's right — if you make a conscious effort to buy recycled cartridges, the product you receive could have been used up to six times already. That means, instead of four, five or six cartridges winding up in landfill, the same product is being put to good use again and again — something's that's good for the environment, and good for your wallet too.  
Around Eight Cartridges Are Thrown Away Every Second
  That means, in the time it's taken you to read up to this point, hundreds of cartridges will have been binned irresponsibly rather than been properly recycled. If just half of these cartridges were recycled, the environmental impact would be halved — meaning fewer harmful chemicals are free to wreak havoc on the natural world.
Plastic Print Cartridges Take Years to Decompose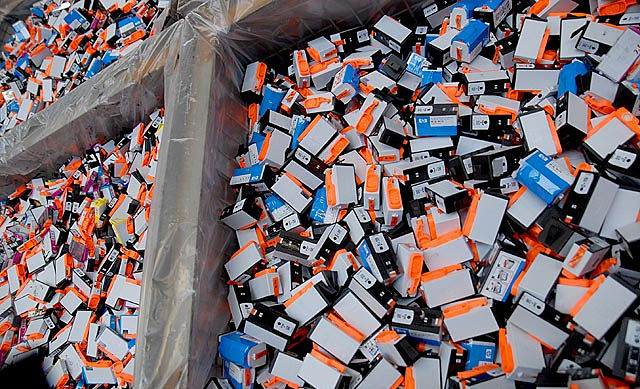 Due to the plastic polymers used in their production; printer cartridges take hundreds, if not thousands, of years to decompose depending on the specific material they're made from. During this decomposition process, all manner of harmful chemicals are released into the environment — causing widespread pollution and harm to local ecosystems and wildlife.
97% of a Cartridge Can Be Recycled
  Unlike some materials and components which can only be partly recycled, it's thought 97% of a printer cartridge's total mass can be reused in the future. This means that, by recycling your cartridges, you'll help to curb the harmful processes used in the collection of raw materials used in the production of printer cartridges — thereby lessening the on-going impact of global warming.
Printer Cartridges Can be Refilled Up to 15 Times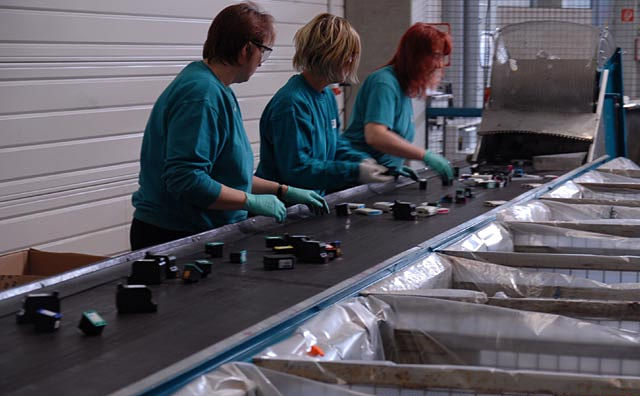 Despite the majority of print users buying new cartridges each time they run empty; did you know that cartridges can be refilled up to fifteen times before they need to be recycled? Take your empties to your local printing store, and they will likely be able to refill those cartridges for a nominal fee.
For Every 100,000 Cartridges Recycled, We Save 1,000,000 Litres of Oil
  It's a little known fact, but one of the main components used in the production of print cartridges is oil. With that in mind it's surprising how few cartridges are properly recycled; oil is one of the world's most valuable resources, and is disappearing at a staggering rate. The more oil we use, the more expensive energy, fuel and printer cartridges will become. So do yourself and your wallet a favour and start recycling your empty print cartridges!
It's Not Just Yourself and the Environment that Benefits
  OK, so all of our previous recycling prompts may have been environment related, but there is another benefit to recycling print cartridges. Choose to recycle your empties through Toner Giant, and our partner, The Recycling Factory, will make a donation to the NSPCC. All of the profits we make through our recycling initiative are donated to the NSPCC, meaning that you aren't just doing the environment a favour — but are helping some of the most vulnerable youngsters in society.
To find out more about our printer cartridge recycling programme, click here or call 0845 365 3605 to speak to a member of the Toner Giant team.
Images sourced via Flickr Creative Commons. Credit: Innovate360